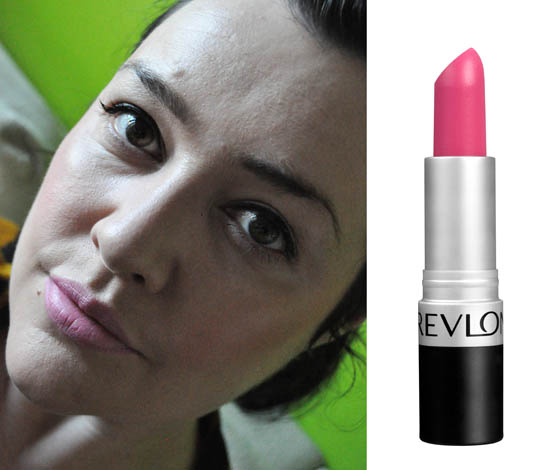 First things first, the press pix for Revlon lipstick in Stormy Pink, €10.50, part of the brand's current autumn collection, doesn't bear much resemblance to the shade you'll find inside the packaging.  It's nowhere near as candied a colour as the shot above and while it's bright, it's much bluer-toned in real life, which you can see on my lips. So just be warned if you're expecting a shocking pink - you won't get it.
You also won't get a lot of colour payoff. This is a matte shade with probably a medium dose of pigment in it. I was a bit nonplussed to begin with because my usual lipstick go-tos tend to be high end, creamy and luxe. I've actually not come across a lippy that delivers so little color in one swipe in a while, and I don't think it's got much to do with being down the affordable end of the scale either. After all, both Bourjois and Rimmel manage to deliver really good lipsticks at decent prices, and Revlon's satin-finished offerings are also very good.
Nah, I think it's actually meant to be this way: a retro, whited-out pink that's matte, fairly sheer (though you can build it) and not too in-yer-face. Once I got past my initial surprise and actually wore it about my daily business, I found I really liked it. Stormy Pink is quite easy to wear actually - because it's not madly bright and thick and satiny, it's a good day pick. A little like a MAC St Germain-lite, it ticks that 'looks different' box but doesn't require massive attention and if it wears a bit, well that's ok - the coverage wasn't really opaque to begin with.
Advertised
A note: you do need to have non-flaky lips for this as it'll show any and all chapped areas, so prep with a bit of balm before hand too - my fave under matte lipsticks is Nuxe Reve de Miel.
So, from a slow, slightly surprised start, I've found myself reaching for this fairly often for daytime recently. There's also a matte orange, Smoked Peach, in the autumn collection which I am now inspired to root out and try in the hopes it gives me an Ali McGraw in Love Story-style pout.
Have you tried these lipsticks yet?