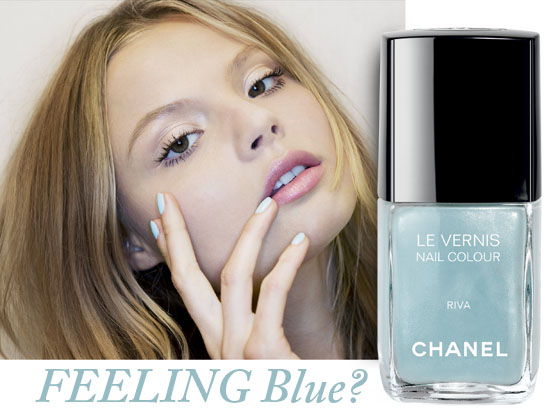 Tempting and all as it is to imagine Uncle Karl tucked up in bed with a cup of cocoa and a David Eddings book to hand, I don't think the antics of Belgarath the Sorcer and Polgara and Garion (what can I say, I was a teenage fantasy nerd) inspired the name of the forthcoming Cruise Collection nail polish, Riva.
Disappointing, yes, but I'll get over it.
The name actually comes from the fact that the models disembarked from a flotilla of Riva boats before doing their thang in the Cruise Collection clothes. And this is what they had on their hands: a shimmery, light turquoise blue that's very pretty and much more up my street than Paradoxal was. Blue is particularly flattering on cool skintones, I think, and this one will hopefully follow suit.
Advertised
On counter on November 26th, it'll cost €25 from the Chanel boutique at Brown Thomas Dublin. This is going to be strictly limited so you know the score - phone to join the list now if you know you can't live without it.
But I have absolutely no doubt in my mind that brands like Barry M and Models Own are already feverishly whipping up dupes as I type, and I can think of a few existing shades that'd give it a run for its money like China Glaze For Audrey - though in fairness Riva looks a lot more of a pastel. Do you have anything like it in your collection already?