 We haven't seen much from Smashbox in the past while but there's a lot of new stuff arriving and incoming. Like last year, there are lots of really nice Wish giftsets - we'll take a look at 'em tomorrow - which gather together brand heroes and make great pressies for beauty fans.
There's also a festive beauty collection, Burlesque, about to land. The brand was the makeup of choice during filming of the forthcoming Burlesque film, starring Christina Aguilera and er, Cher, which explains the motivation.
I have absolutely zero interest in this or in fact anything to do with burlesque in general - it all really grinds my gears - so while I'll be putting the packaging of the beauty collection I was given in the bin, the products themselves are very nice and well priced for what you get.
Burlesque is composed of two sets - the beauty collection, €49.95, and the burlesque train case, €99.95.  Lets take a look at the former first, shall we?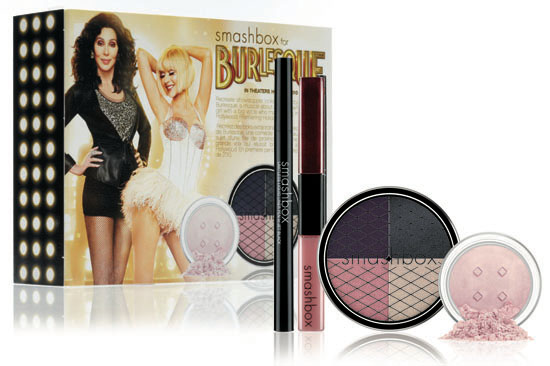 In this set you get liquid liner pen in jet black, shadow and liner quad in risque, loose shimmer in burlesque and double-ended gloss in peep/show. Four products for just a whisper under €50 may seem pricey but individually they'd be a lot more expensive so it does work out well. Fancy a closer look at the contents?
Advertised
Here they are, in natural lighting. To me, the quad is the most interesting, containing three shadows and one cream liner - it's the gunmetal grey top right.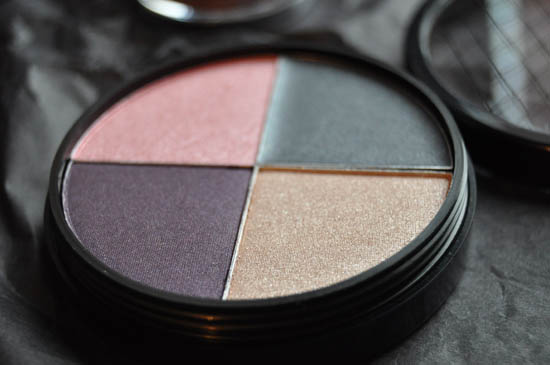 Here's a closer shot of it. Textures are lovely - all shadows are satins, with a sophisticated shimmer.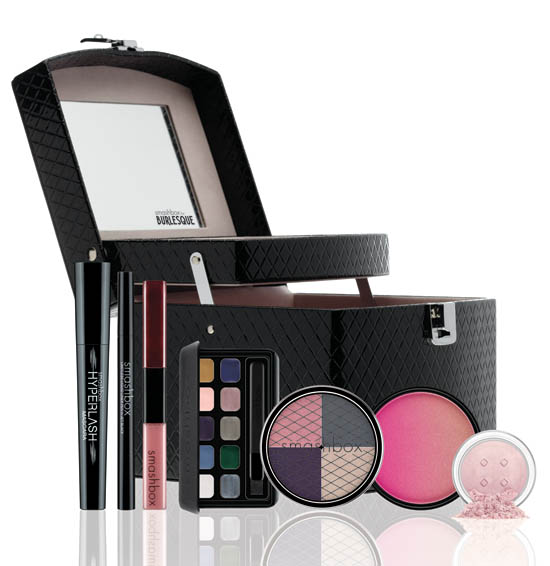 The Burlesque train case is particularly good, I think, and a brilliant pressie for someone starting out with makeup because for the price, you get a lot of product. As well as the four goodies you get in the beauty collection above, you also get a Hyperlash mascara, cream liner palette and fusion softlights blusher in tease. The traincase itself is a glossy reinforced cardboard with a mirror in the lid, a top tray, deep base and a locking mechanism.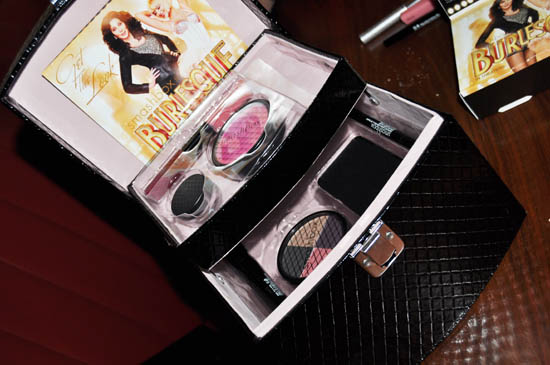 Advertised
Here's a pic of it I took on the press day so you can get an idea of how it looks in the flesh: nice, eh?
Any downsides to these sets? Well, as you can't buy the products individually you may end up with some items you didn't necessarily want to own. The train case probably isn't going to stand up to travel being made from heavy card, but for an at-home storage piece, it'll fit the bill nicely.