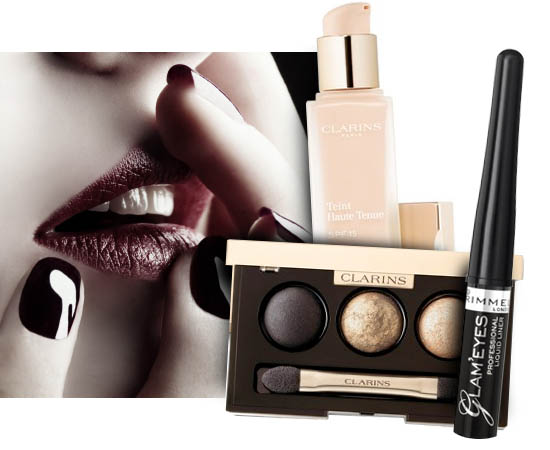 Sumptuous, sexy, sophisticated: this season's dark berry lips have all the benefits of their red cousins, but tend to be way easier to wear. There's none of the headache associated with trying to find that elusive "perfect red" and berry shades look great on most skin tones.  In addition, they're deliciously wintry and festive without being obvious, making them a great choice for nights out over De Chrissmiss.
However, they are a strong statement in their own right, so what should you be doing with the rest of your face if you're sporting berry lips?
Start with a flawless base - this is a proper made-up look, so I'd opt for a foundation that's going to provide at least medium coverage - and keep bronzer to a minimum. Use a matte bronzing powder and a light hand for contouring/taking off the freshly dug up edge if needed; look to oink cheeks instead for your colour hit.
Then either go for simple definition or all-out drama on the eyes.
Advertised
A slick of dark liquid liner along the upper lashline will balance out the lips and prevent eyes from being totally eclipsed; flick it out at the corners for a bit of retro diva glam.
Alternatively, forget everything you've ever heard about "lips or eyes, but not both" and smoke it up with a wash of gold eyeshadow across the lids (I'm liking the gold from Clarins' Barocco eyeshadow trio for this job) and a plummy shade (like MAC Sketch) blended well into the socket. Inglot teamed an intensified version of this eye with berry lips at the Xposé Xmas Xperience and while it mightn't sound like something that should work in real life, it really does! It's my new go-to eye and can be extended into a nicely winged corner for a birrov extra nighttime drama.
Psst: need some recommendations for a nice berry lippie or gloss? Have a look at Clarins Barocco Rouge Prodige lipstick (my current fave), or the reader rated MAC Diva lipstick (Kitty In The City's pick), Maybelline Moisture Extreme Lipstick in Pink Topaz, Revlon Colourburst Raspberry lipstick, L'Oréal Glam Shine Sheer Cassis gloss (all in Aifs' lip wardrobe!), Clinique Almost Lipstick in Black Honey (Macloon's berry weapon of choice), Smashbox O Gloss Noir (OPI Lover's love) or Chanel Rouge Noir (PinkPanther's staple).