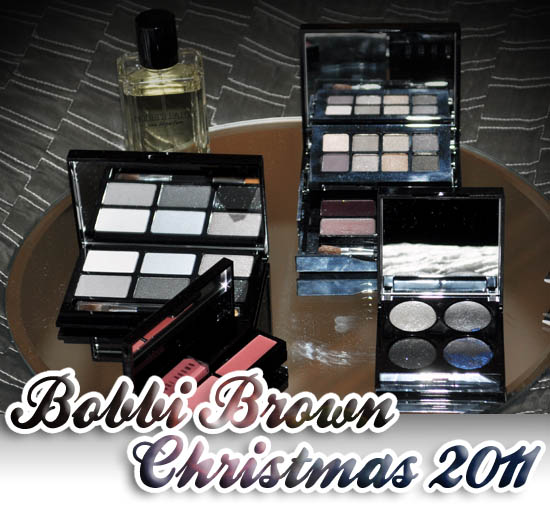 There are absolutely tons of gorgeous goodies just on-counter from Bobbi Brown and more en route in November, all for Christmas. And since it's now October (squeak), we can take a look at 'em! Please bear in mind all pics were snapped at the Estee Lauder Christmas press day so for some the detail isn't great; in addition I don't have any samples (yet!) so I've no swatches for anything at this moment in time; I also didn't get to take pictures of all the brush sets and kits.
Phew! That explained, lets get to it.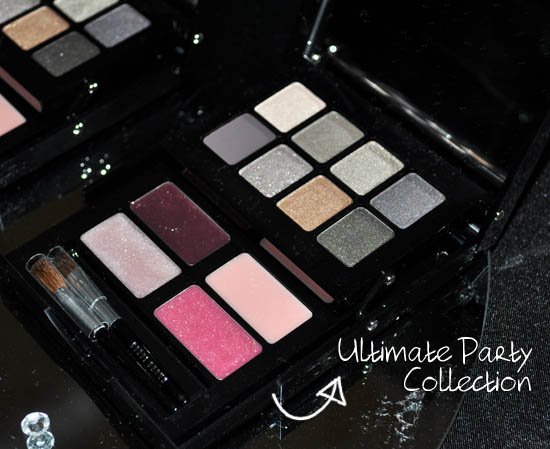 Not a great shot, apologies, but this is the Ultimate Party Collection, €65. A limited edition, it's available now and contains eight shadow shades and four glosses which are housed in a double-decker palette designed to minimise cross-contamination of shadow fallout into gloss, always a bugbear with mixed kits.
Shadow shades are Najavo metallic eye shadow, Chrome patina shimmer wash (new), Pewter Chrome eye shadow, Plum Steel metallic eye shadow, Plum Navy eye shadow, Crushed Granite sparkle eye shadow, Antique Gold metallic eye shadow (exclusive to this palette) and Black Topaz metallic eye shadow (new). Lip shades are all glosses and are Rave glitter, Soiree Pink, Iced Lilac glitter and Tinsel glitter.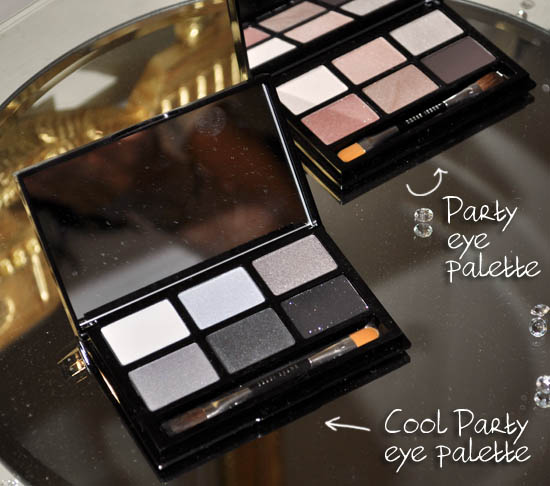 Two warm and cool palettes are up next for €45 each, and might appeal more to as usable basics; again both are limited edition.
The Cool Party Eye Palette contains six shadows in the following shades: White eye shadow, Iced Blue metallic eye shadow,Rockstar metallic eye shadow, Sterling shimmer wash eye shadow, Gunmetal shimmer wash eye shadow and Onyx eye shadow. The Party Eye Palette contains browns and its tones are Bone shimmer wash eye shadow, Champagne Quartz metallic eye shadow, Pebble metallic eye shadow,  Pink Blaze sparkle eye shadow (new), Copper Sand shimmer wash eye shadow and Black Chocolate eye shadow.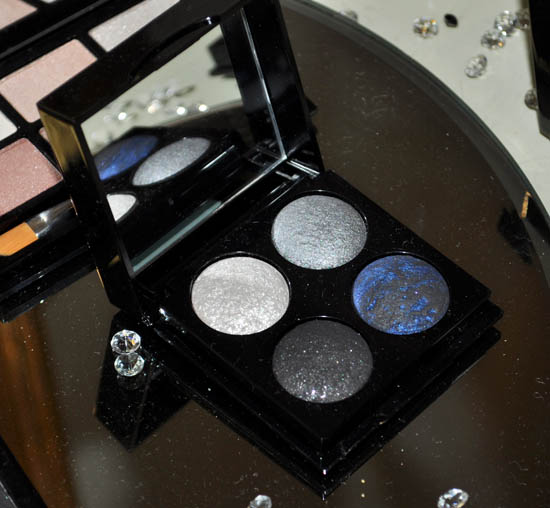 Another limited feller: this is the Onyx and Silver Eye Paint Palette, it's €40 and it'll be on counter in November. Tinsel, Blue Onyx, Silver and Lava are the shades of baked shadow which are super-pigmented as baked shadows can be. These can be used a variety of ways and come into their own when used wet, as eye paints - as y'know, the name suggests! This is joined by an equally limited sister, the Chocolate and Gold Eye Paint Palette, for the same price, also on counter in November.
Advertised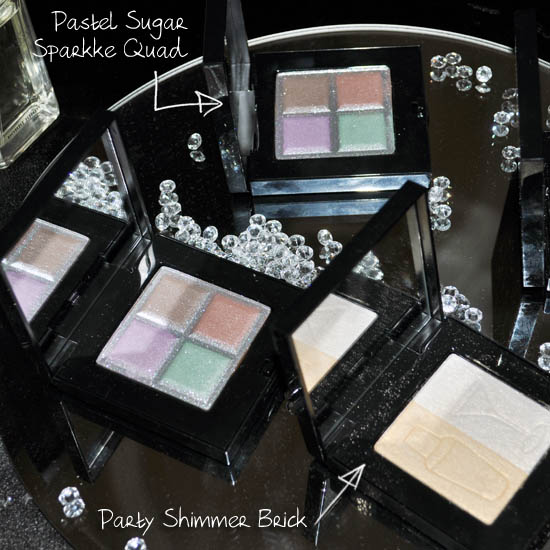 The limited edition Pastel Sugar Sparkle Quad, €35, is available now and isn't going to be to everyone's taste but some will love its sheer, shimmery and fun ways. Four candy colours are deliberately designed to leave a wash rather than a large dose of pigment on skin and colours are all new: Pale Turquoise sparkle eye shadow,  Orchid sparkle eye shadow, Halo sparkle eye shadow and Silver sparkle eye shadow make up the offering. It's not one for me, but I'm sure it'll have its fans.
I was definitely taken by the limited edition Party Shimmer Brick, €44.50. Isn't that a gem? Two shades of highlighting powder in gold and silver remind us of what the festive season is really about - getting langers - and the powders feel smooth and creamy. Yum!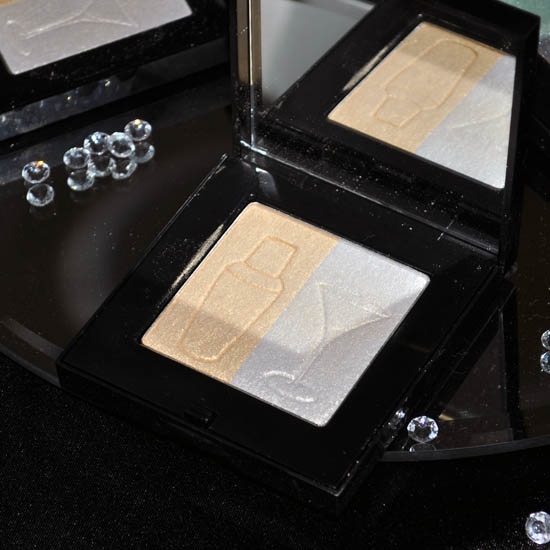 And here's a closer look. WANT.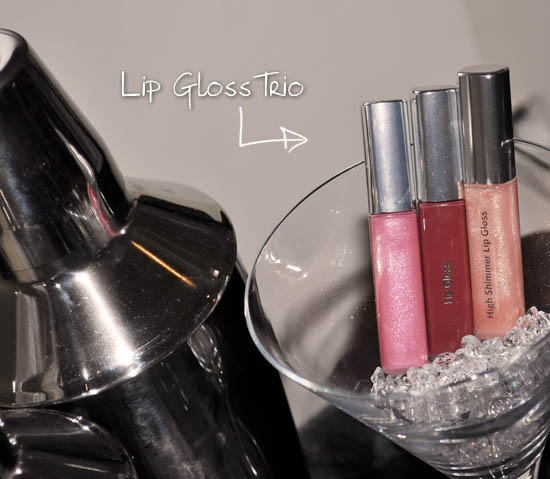 This here's one of the Christmas stocking filler-type gifts (cocktail shaker and glass not included): it's the limited edition Lip Gloss Trio, it contains three shades in Aubergine, Bare Sparkle high shine gloss and Pastel Pink high shine gloss and it'll cost €24.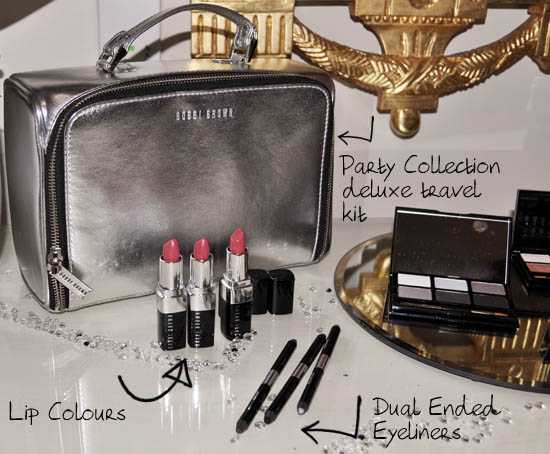 And the last pic from me today is this one: that big glossy, metallic silver feller is the Party Collection Deluxe Travel Kit, it's €100 and it's available now. A really nice piece for a beauty junkie with an organisational fetish, this zippy carrykit contains lots of compartments into which you can sort all your various bits and bobs. Limited edition, natch.
Some new makeup bits and bobs will be landing in November as well: those Dual Ended Eyeliners will be €24 and they're kinda bombproof; I tried a couple on my hand at the press day and they were still there the next morning. And did wash, honest guv'nor. Shades'll be jet/chrome, bronze/chocolate and caviar/gold.  Two new limited lip colours arrive as well: Party Rose and Party Alice, €25, will be your festive season pout companions.
Advertised
There's actually loads more: a Party Fragrance containing violet leaves, rose petals and sandalwood, €65, a couple of brush sets from €65 and two smartly clever Party to go Palettes, €36, which I didn't get a good shot of, but which are really clever.  You get a compact little kit containing three shadows, two lipstick pans and a gloss in a tube which slots in and out - it's compact, smart and really usable to boot. There's also a nice-looking Black Ruby Sparkle shadow palette, €40, and some extra glosses landing in November.
Lots to look out for from Bobbi Brown over the next couple of months, so - what will you wishlist?