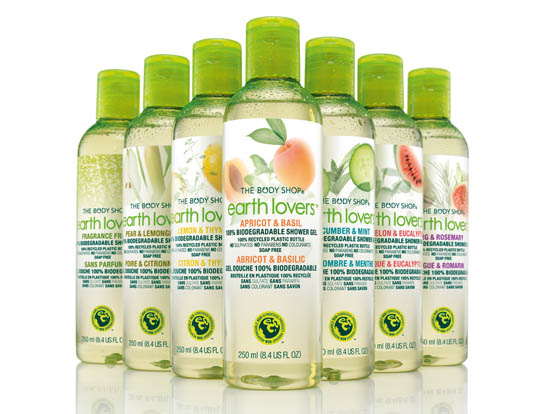 We're bath-mad this week: Hot on the heels of Monday's Rate It on shower gels and bath products and Aphrodite's praise of Lidl-to-rhyme-with-piddle's Suhada goodies, here's something en route from the Body Shop I've been trialling for the past few days.
It's a brand new launch due in store on February 3rd and it's called Earth Lovers 100% biodegradable shower gel, a seven-strong suite of gourmand-style shower gels. The 100% biodegradeable claim comes from the fact that the included foaming agents readily break down in the environment as soon as the product washes off you and whizzes down the drain.
Paraben-, colourant- and sulphate free, each comes in a 250ml bottle made from post-consumer recycled plastic where possible, and will cost €8.50 a pop. That's all great, what about the gloop?
Advertised
Containing the usual cocktail of Fair Trade goodies, scents are Lemon & Thyme, Mint & Cucumber, Watermelon & Eucalyptus, Fig & Rosemary, Pear & Lemongrass, Apricot & Basil plus a fragrance-free version. Offered a choice to test, I plumped for Apricot & Basil, purely for the whole Jo Malone Lime Basil and Mandarin vibe. Would it be a similar mix? Nah, not hardly - this is basically very apricot-scented with a green note in there somewhere - but it's very nice.
Nowhere near as sweet as Lush's sickly offering from last week (which was rapidly sidelined when this appeared), this works for me on a few levels: it doesn't dry my skin at all, sing hosannas: there's nothing worse than skin feeling tight and itchy post-shower but the sulphate-free formula takes care of that, so take note if supermarket gels don't suit.
The scent is enlivening and a nice way to meet the morning and the goop itself is not so much a gel but more a thickish liquid. I prefer this - you can actually get it out of the bottle as opposed to wrestling with it first thing.
Thumbs up? Yep, definitely.