 Bourjois have given their Healthy Mix range a bit of an overhaul. The Healthy Mix Serum is unchanged, the powder has a new look and there's a new Healthy Mix blush, but most importantly, they've revamped the formula and look of the Healthy Mix Foundation.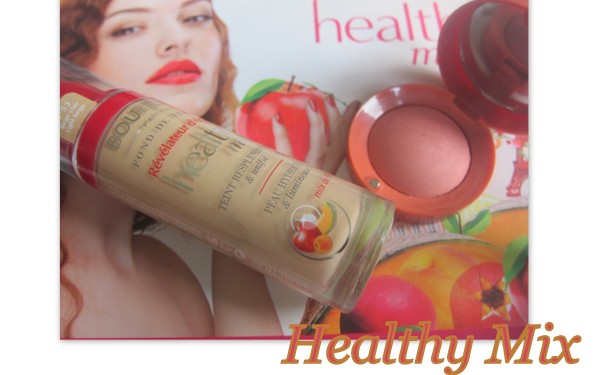 Out goes the plastic packaging and in comes in a sleek glass bottle with pump, to match the Serum (be careful you don't confuse the two on stands). I've been using it for the past week and while I can't personally compare it to the original foundation, because I never used it, I can tell you that, hand on heart, this product has marched straight to the top of my favourites list.
To recap, I have oily and dehydrated skin and in the past have steered away from these glowy, dewy finishes for fear they would go patchy or slide off my tzone.  This is different.  Right now it's been on my skin for 6 hours and it looks every bit as good as it did at stupid o'clock this morning. I did set it with a light dusting of powder down the middle of my face and I'd recommend you do, too, as otherwise it can look a little shiny as the day goes on. I find it stays put for the full working day, and then some.
It smells subtly fruity on application – that'll be the apricot for radiance, melon for hydration and apple for youth protection, which are now in greater quantities than the original – but if you don't like scents, don't worry: you won't smell it once it's on your face. You won't feel it, either, it's genuinely weightless, and the finish it gives really does look like my skin – except a more radiant, healthy and even version of my skin. Praise be!
Advertised
The shade 53 (Beige Clair) is probably a touch too dark for me but once it's all blended in I don't mind at all. It's the third in the range and I have light/medium skin (I'm NC20 in MAC, for reference) so paler gals should be ok with the first shade – 51, Vanilla Clair. This is €14.99 which is very reasonable indeed for a product of this quality.
Wearing both products (and no concealer or powder) and looking very pleased about it, too!
As for the blush, there are no skin friendly promises or fruity ingredients, but the brand new shade is designed to bring a healthy glow to all complexions. It's only gorgeous, so it is – a fresh peachy corally shade that I know loads of you will go mad for. It's €9.99.
This is launching now – have you seen it yet? Have you tried it? Do you plan to?