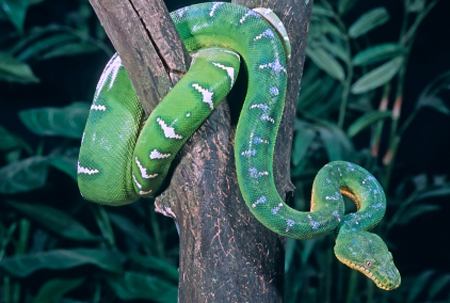 We've had the gold facial, we've had the bird poo skin-fix and now here's the serpentine version.  Word on the grapevine tells me that exclusive to Queen Beauty Emporium on Dublin's Aungier Street (or should that be Awn-jee-ay?) is the Venom Facial. Adding to their impressive list of cosmetic and skincare brands - think Kevyn Aucoin, Girlaktik and MD Formulations - the treatment uses serum and moisturiser products from the Planet Skincare range.
I've tried the moisturiser and liked it  - using a synthesised snake venom called Syn-ake, it's designed to mimic the effect of Botox. The Botox molecule is too big to penetrate the skin unless injected, so naturally you won't get the same super-frozen effect. But it is ideal for use in a facial because the products are designed as a treatment for your whole skin as opposed to localised spots.
Book in before a big night out, as Queen's Leonard Daly reckons that it's "specifically designed for giving the skin that celebrity glow, and creating the perfect canvas for beautiful makeup." Right so! Price? €60 is the damage and for another €40, you can add a makeup application in Queen's luxurious Throne Room. Off to the IFTAs? That's you sorted, so.
Advertised
Queen are also currently running a Beautiful New Year promotion which offers a 30% discount on all beauty services until the end of February. Good sports, wha?
Queen Beauty Emporium, 66/67 Aungier Street, Dublin 2. 01 478 9633; www.queenbe.ie