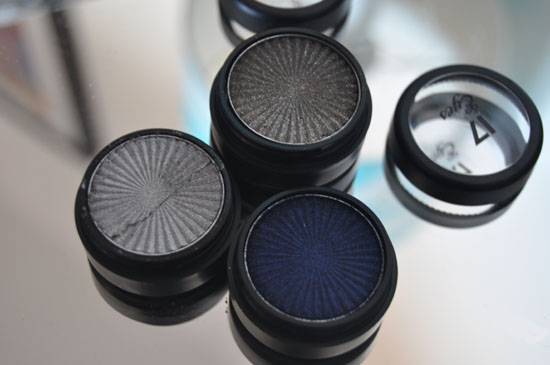 I've said it before, and I'm sure I'll say it again, but for the price - a whisper under €5 a go - 17's Solo Shadows are really bloody good.
I've got a few lurking around my makeup bag and last time I was in Boots, I swooped down on three more: regal, a deep metallic navy (bottom), night sky, a glittery, olive-tinged grey (top) and spirit, a glitter-shot pewter (left). While it can be tempting to not spend on shadow, that can often be a false economy - cheap products often lead to zero payoff and that neon eye you planned ends up looking more wishy-washy than wonderful.
And while there can be some inconsistencies across the solos - the two glitter versions are creamier than Regal, for example, which feels a little chalky, but they're also fairly crumbly so not the sort of thing you can easily carry around with you.  Spirit also applies more like a wash than the others, but you do get a good dose of pigment in these pots as a rule, and I've found them to be easy to work with.  Colour choices are a little limited but again, there are enough there to float my boat, and if you want to address any shedding - not a particular issue for me with these - use a lick of primer.
All-in-all, these three are great night-time shades and the fact the lot of them cost around the price of one Mac single speaks for itself, really. Want to see some swatches? They're after the cut.
Advertised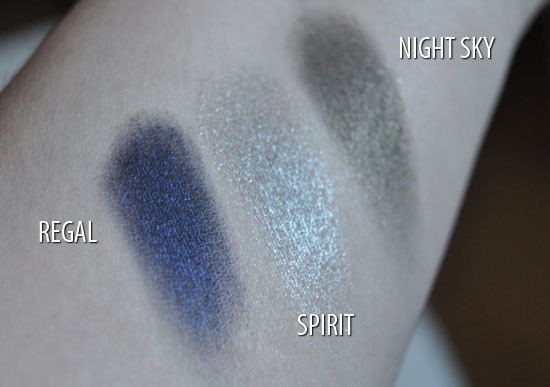 Nice, eh? Have you tried any of these yourself?