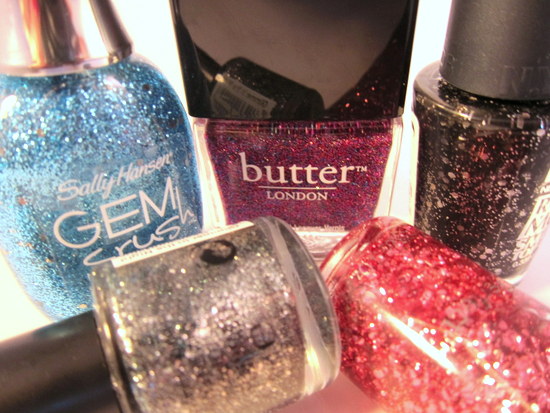 Tis the season to be sparkly, and gorgeously glittery nails are where it's at. We've showed you the blinging new collection from Models Own, and a peek at two of my own sparkly faves, but the shops are awash with a bedazzling display of glitter this year. If twinkly talons are what you're after, these five are a good place to start.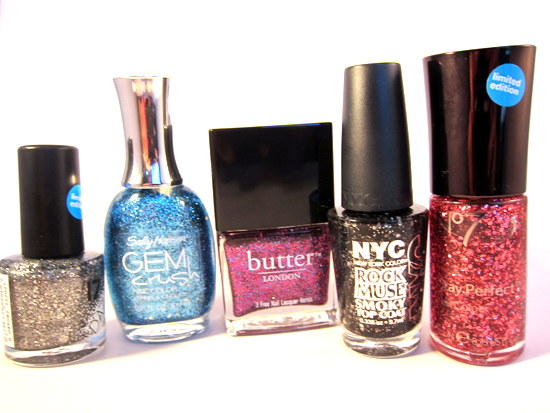 The best glitters should have your nails glistening like crushed jewels - which is the inspiration behind Sally Hansen's new-to-Ireland line, Gem Crush (€8.95). Big Money has made several appearances on the site and now it's Bling-tastic's turn to shine. The bright aqua glitter with larger silver chunks is stunning, but you will need three coats for it to really live up to its name.
Not so with Glimmer In The Night, from 17 - a densely packed charcoal and silver glitter, this needs just two coats to be fully opaque. While brighter glitters are as much fun as a box of kittens, darker shades like this one manage to look both edgy and elegant - no easy feat. Plus, at €4.29 it's good value, too.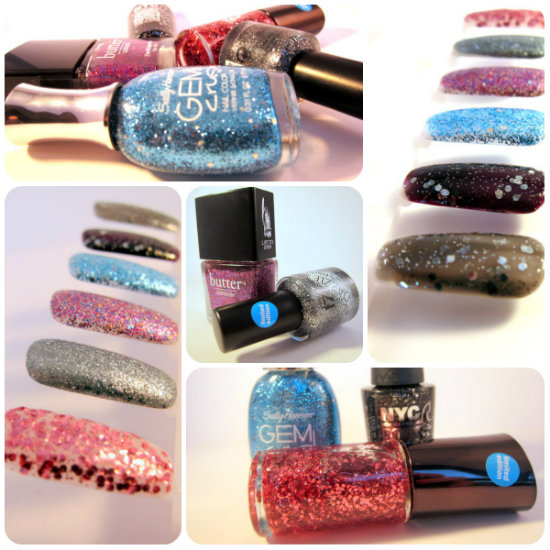 By contrast Lovely Jubbly from Butter London is a riot of vibrant fuchsia, blue, red and gold glitter particles. At any other time of year, I might possibly deem it a little too much - making it spot on for the party season! Available for €15 from beautymatters.ie - who sent me out this bottle - this is also opaque in two coats.
Advertised
Billed as a smoky topcoat, Rock Muse from NYC is a mix of vari-sized silver glitter pieces in a sheer charcoal base. Gorgeous layered over darker polishes, it manages to look grown up and expensive - odd really, as it's (say it with me now!) CHEAP AS CHIPS! (For the record, it's considerably cheaper than chips at €1.29 and won't stink out the living room with vinegar, either.)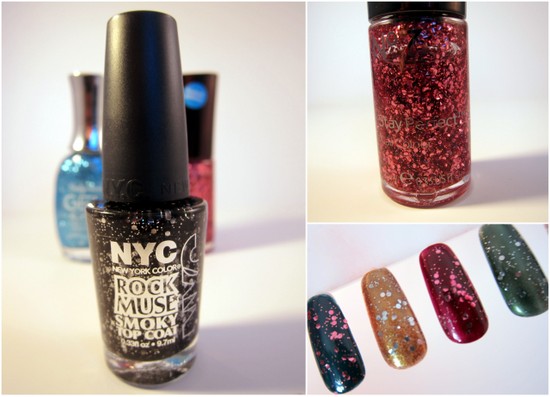 Bottom right: Daisy Darling & Rock Muse layered over my autumn faves
No 7's Daisy Darling arrived later than the rest of the Deco Darling collection, but  was worth the wait. A mix of glitter specks and larger hex pieces - exactly the same as Rock Muse, but suspended in a clear base - this works best layered over a base colour, and looks divine with Estee Lauder's Black Turquoise. The shade of pink is to die for - there's a rich, warm tone to it that makes it a little more special -  and it's €7.75.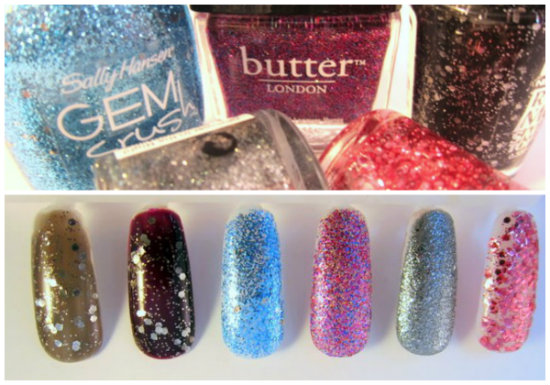 L-R: NYC Rock Muse alone and layered over Mavala Mexico; Sally Hansen; Butter London; No 17; No 7
Advertised
As with any glitter, all of these are best worn with a top coat and removed with patience - read our removal tips here.
We know how I feel about glitter, but how about you? Will you be joining the glitterati?