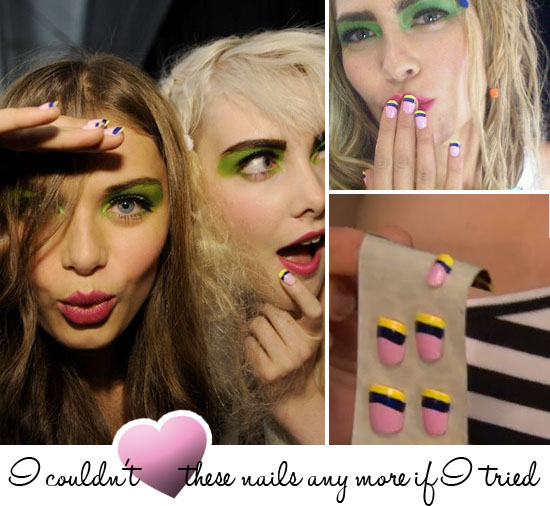 I was in the middle of doing a post on the wacky eye makeup* that's been coming down the runways during various fashion weeks when I stopped dead mid-cutout and clocked the AMAZING nails the models wore at bonkers US designer Betsey Johnson's recent NY Fashion Week brouhaha.
In fairness, her clothes tend to overshadow most everything (I love 'em) and with Stila's colourful input with the makeup, I'm kinda amazed I noticed them at all.
A hunt around the internet later and I now know that said nails were created by Butter London lady Nonie Creme using Butter London shades pre-applied to stick-ons. 300 of 'em were painted the night before the show while Ms Creme drank 10 glasses of wine (I know this fact via a video on Betsey Johnson's website and not due to any creepy stalkerism) and the upshot of all of that is I WANT THEM ALL SO I CAN DO MY NAILS THE SAME.
The yellow and navy are Butter regulars; the pink, named Pepto Pink, was specially mixed and will apparently debut in the spring in a collaboration with Victoria Beckham, of all people. There's a shot of the three after the cut as well as a cheap way to dupe the look.
Advertised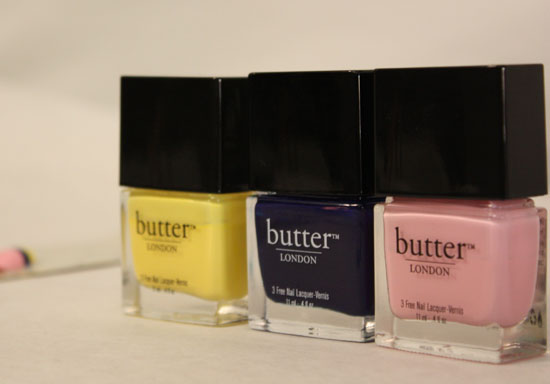 From left to right we have Cheeky Chops, Royal Navy and Pepto Pink. Fab combination, eh?
But you want to know how to create this look both cheaper and easier, doncha? Just read on, so.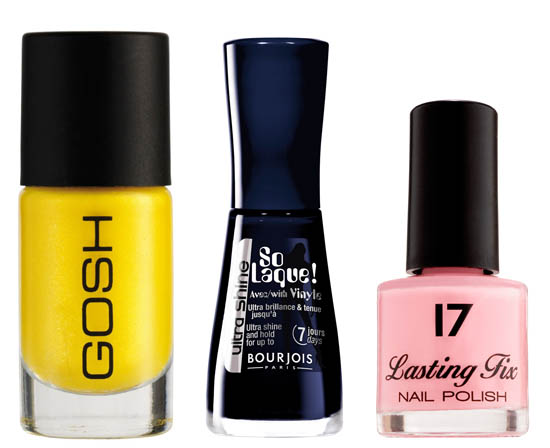 Gosh's Yellow Bombay, €8.50, is a tad bright but will do at a push; Bourjois' So Laque in Bleu Mysterieux, €7.99, is pretty much spot-on and 17's Lasting Fix nail polish in Fairy Cake, €3.99, is not a bad match at all at all for Pepto Pink. Obviously, you're not getting the posh Butter London 3-free experience with my dupey trio, but chances are you'll actually be able to easily pick up the above shades in a stockist near you.
Advertised
*Would you all still like a post on the wacky eye makeup?
Pix and stills via Betsey Johnson's Twitter, Plixi, BetseyJohnson.com, WWD.com