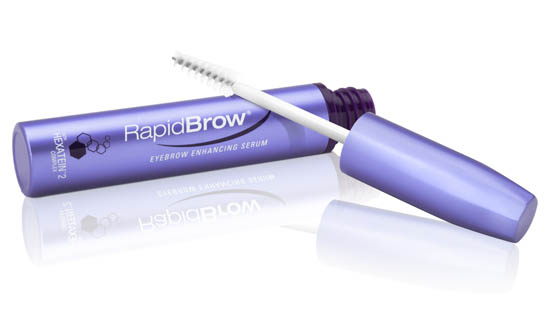 Love 'em or loathe 'em, HD brows are firmly on the beauty agenda for the forseeable. We're assured you can go a lot more low impact results-wise than the Scouse Brow (thank the sweet baby Jesus for that) but the problem with any brow-shaping treatment (HD Brows is a seven-step process involving tinting, shaping and colouring-in), is you've got to actually have something to work with for starters.
Here's something that sounds promising if you're trying to encourage new growth: from the makers of the much-hyped RapidLash is RapidBrow Eyebrow Enhancing Serum, €48.  Much hype surrounds this one too: it's got a clinically tested and proven formula tested on a small sample group of 61 subjects over 90 days. The formula contains the brand's exclusive hexateinTM2 Complex, which is a blend of proteins, peptides and nourishing ingredients designed to help condition, restore, and repair the appearance of eyebrows in 60 days.
The one thing to keep reiterating for any product like this is it won't cause hair to grow where they is none. There is no current cure for baldness and in beauty pharma terms, that is the golden goose egg. We'll be paying a lot more than €48 for it, put it that way.
Advertised
So this product contains ingredients to feed the follicle and give hair the best fighting chance. In addition, it's got biotin and panthenol help nourish and fortify to boost the appearance of eyebrow density, keratin to rebuild, restore and rejuvenate the appearance of brow hair, apple fruit cell extract helps rejuvenate to amplify the appearance of brow volume and sweet almond extract helps add shine, sheen and softness for a healthy appearance of brows.
There's a lot about 'appearance' and not so much about growth, so take note. That said, the study did conclude that there was an 108% improvement in the appearance of eyebrow density in just 60 days - or two months, which is a pretty hefty wait.
Would you give it a go?