 So Karl Lagerfeld had a bit of time on his hands, so he got his people to convince Pharrell and Cara (not too much convincing was required given they're already collaborating on a never ending musical venture) to get dressed up as a prince and princess and swing each other around a ballroom for a new film he's created for Chanel.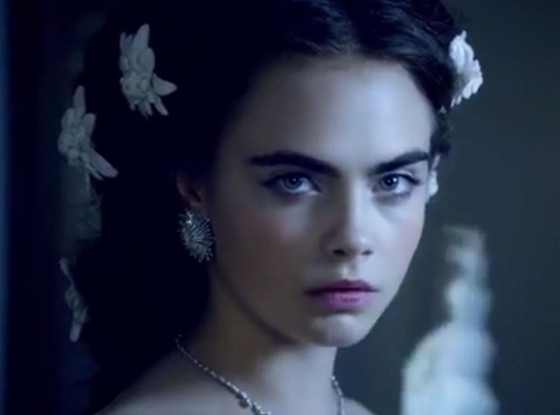 It's called Reincarnation(interesting title given how 'ye olde' it is) and below is the blurb accompanying the 40 second teaser on YouTube.
Reincarnation is the title of the video-clip created and directed by Karl Lagerfeld to accompany the Chanel Paris-Salzburg 2014/15 Métiers d'art collection to be shown on December 2nd, 2014 in Salzburg, Austria. This new short film was the perfect opportunity for Karl Lagerfeld to develop an artistic collaboration with Pharrell Williams, a close friend of the House and personal friend of the designer. Pharrell Williams composed and wrote the lyrics to "CC The World," the original soundtrack for Reincarnation, and he also plays one of the lead roles and will be, along with Cara Delevingne, the face of the upcoming campaign of the Paris-Salzburg 2014/15 Métiers d'art collection. Reincarnation will be screened in Salzburg and on http://chanel.com on December 1st, 2014 the night before the Paris-Salzburg 2014/15 Métiers d'art show.
Advertised
Between the 'soundtrack' and the general theme, we're not entirely sure who's doing who the favour here... Indeed that is Cara providing the incessant chirruping "CC"... 
What do you make of Karl Lagerfeld's princess-inspired ad? Are you loving Cara's makeup as much as us?