 If you dream of a life of hairlessness but fear the hefty price tag, we have some good news for you
Laser hair removal has always been on my mind. I have always had a lot of hair growth, especially on my lower legs. Even when I shave it is never quite smooth. In winter when I'm cold you could sand down a wall with my legs.
For me, waxing is pure torture. I had an exceptionally bad experience with bikini waxing five years ago and its left scarred for life. When I have to get a bikini wax I procrastinate for weeks. And to be completely honest I sometimes talk myself out of it and just shave which inevitably makes the next time even worse. And the vicious cycle continues.
When it comes to my pins, I just can't subject myself to that much pain. So I have always shaved those and just put up with the sand paper outcome.
I would love nothing more than to get rid of the hair growth completely and never have to inflict pain on myself again. That's why I have spent a lot of time researching laser hair removal. (Especially with my wedding coming up next year, I felt it might be a nice bonus for my husband to be.)
The price was always something that put me off in the past. Having to pay the guts of €1000 upfront, I just didn't have that sort of disposable income. The other factor was that although I had a lot of growth on my lower legs, my skin is sallow and the hair isn't that dark. (*Note; laser does not work on blonde hairs yet) In the past, the ideal candidate for laser would have to have pale skin and very dark hair for the laser to work properly.
Then, I went to an event with a fellow beauty editor. She was raving about Urbana and told me that they had new medical grade machinery that works on fine dark hairs. I decided to go for a patch test and give it a go. Would it finally be possible to not shave every day and have smooth legs?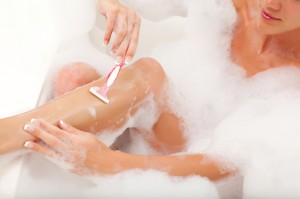 Advertised
The Consultation and Patch Test
After I filled out an extensive consultation form to check if I was eligible for it, I was brought up to the treatment room by a lovely lady called Paula. She went through my medical history and made sure there were no contradictions. We spoke about expectations and time frames and how the laser works. The patch test took minutes and to be honest I hardly felt a thing.
Paula explained that it would take six - nine sessions to work and each session would be done six weeks apart.
Pricing
The best part about this is that unlike other salons you don't have to pay upfront. Just like getting a bikini wax, you can just pay as you go. Considering it's only €60 (bikini only) in my books you are way better off getting laser. After your six - nine months of monthly sessions, you will be virtually hair free and will only need a top up once or twice a year. They also have a loyalty award program, where points are allocated to each client file and these points can be redeemed off subsequent treatments.
I'll be embarking on a laser hair removal journey with the lovely Paula from Urbana. So keep up to date if it's something that's one your mind. (And for those of you wondering, this is not a promoted post, it is my own personal experience.)
Visit Urbana.ie to book your free consultation or call 01 6351616. And don't forget to quote Beaut.ie for an additional 10% off your first treatment.
Advertised
Have you ever had a bad hair removal experience? We're all ears...