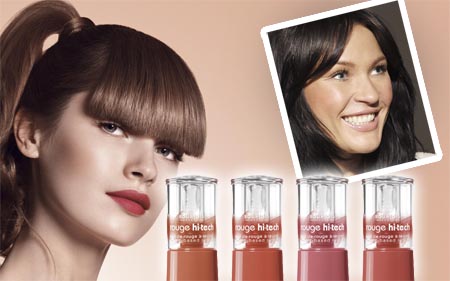 I told you last week how I'd met celeb makeup artist Cassie Lomas (above, right), who is the current expert spokesperson for Bourjois. During our chat she told me loads of fab stuff about what's new and amazing, what trends she's highlighting for summer, and what products are great from the new Bourjois spring/summer line - all of them, naturally.
For warmer weather, Cassie gave the nod to "sheer, lightweight makeup that looks airy", adding that, "it's all about candy colours this season - think love heart sweets". Pretty, feminine makeup is on-trend, and in particular, there's a pastel feel to shadow-shades. "Shimmer is back", she advised me, so look for shadows with iridescence and mother of pearl in the formulations.
For night-time eyes, she also pointed to metallics, recommending loose powder shimmers which, she says, "can be subtle or you can build them to get a stronger effect". Cheeks should emulate the classic English rose look, and look for blush in delicate shades of apricot and coral, or, as Cassie says, "a flushed candy pink".
Advertised
"Lightweight shine on lips is in", she reckons, advising that lip stains are hot too. And handily enough, Bourjois are debuting a line of stains, Rouge Hi-Tech, soon. A great cheaper alternative to Benefit's Benetint, the 8 shades are a mere €10.70 each, and provide a lasting, subtle tint. For night time, layer one of the forthcoming Collection Cosmic Gloss Effet 3D lipglosses, €10.50 each, on top, for "high sparkle", Cassie advises.
Where and how to buy? Simple - Rouge Hi-Tech and Collection Cosmic Gloss Effet 3D will be available in pharmacies and Boots stores from June.