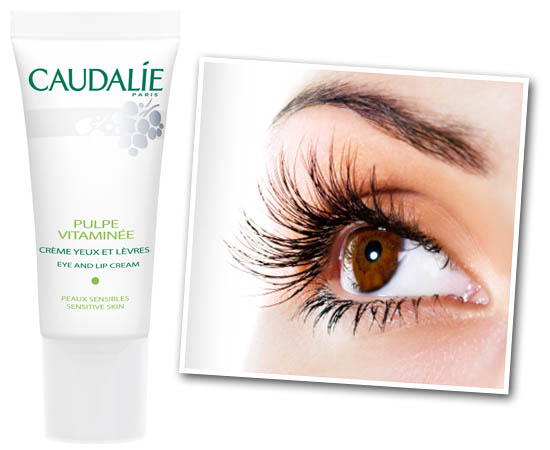 I've posted a few times before of my love for Caudalie's Anti-Ageing Serum for Eyes and Lips, which is a staple in my bathroom cabinet. Sometimes my eye area needs a bit more hydration than the serum provides, however, which is when I reach for another Caudalie eye product: Pulpe Vitaminée Eye and Lip Cream, €25.60.
This is not a particularly high-tech or revolutionary formula, though it includes Caudalie's staple grape seed polyphenols (anti-oxidants that protect against free-radicals, protect collagen and elastin and improve micro-circulation in the skin for more radiance), as well as peptides (which can direct the skin to produce more collagen) and horse chestnut and witch hazel to improve circulation and give a tightening effect.
What I love most about this eye cream, however, is simply how hydrating it is. The whipped texture means it is easily absorbed and when applied to a dry, tired under-eye area, it provides an immediate boost of hydration to smooth and plump up the skin.
Advertised
With the change in the weather recently and increased exposure to central heating, my skin is a good bit drier than it has been at the moment, resulting in fine lines under my eyes. Add a few sleepless nights with a teething baby and the dark circles weren't doing me any favours either. So I dug out my tube of Pulpe Vitaminée Eye and Lip Cream and after only one application at night, things already looked a lot better in the morning. This isn't going to magically make dark circles disappear, but the way it smooths and plumps the skin really does lessen their impact.
This is also ideal for daytime use as it sinks in so easily, meaning it won't negatively affect the application of concealer or foundation over it. In fact it provides a nice base for concealer, ensuring it doesn't sink into any fine lines or look dry and patchy on.
Like all Caudalie products, Pulpe Vitaminée Eye and Lip Cream is free from parabens, phenoxyethanol, mineral oils and artificial colourings and is not tested in animals. There's no added fragrance either, which is always ideal in an eye product. It may not be the cheapest eye cream on the market, but a little goes a long way and a tube will last ages, so it's worth the price if you have a bit to spend on it.