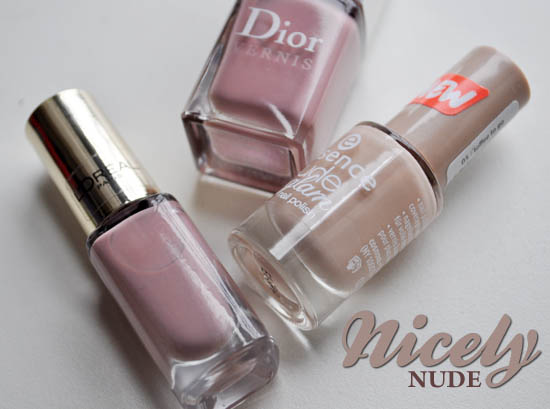 While you couldn't actually raise your eyebrows in any way, shape or form of surprise if you'd bedazzled them a la Peter Phillips' crystal-encrusted brow-bling from last week's Chanel show in Paris, lots of you did express an interest in the nude nails the brand also sent down the ready to wear catwalk.
Seems they're - shock horror - following trends this time, and not leading, as three nice nudes have landed on my beauty desk for inspection recently.  All are ideal for getting a head-start on AW12 nails, should you so desire.
Shall we take a closer look?
Advertised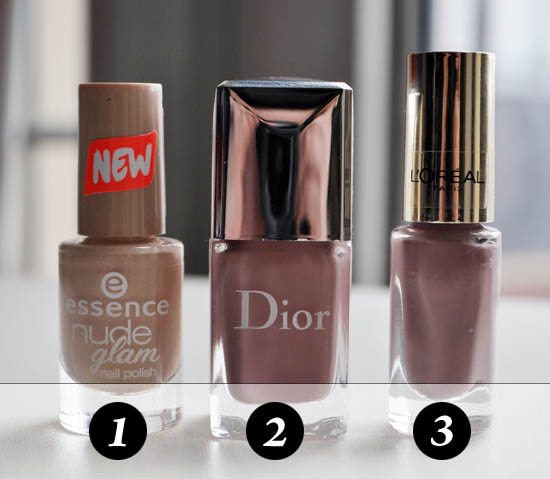 Essence's Nude Glam Nail Polish is one of a few new nudes the brand has released for about 4p - oh, ok, €1.29, and it's called Toffee to Go. This is very sheer, I warn thee. You'll need three coats for anything resembling full coverage but really, it's designed to mostly give a polished-looking finish to the nails and not full-on thick creme pigmentation. Nicely different from the other two I'm showing you today as well, it's got a more yellow base
Dior's Vernis in Incognito, €22.36, is one of the new shades to arrive at the start of April as part of the forthcoming Addict Extreme lipstick collection - more on that from Emma tomorrow!
We've had a gander at these already. Beige Countess is one of the new L'Oreal Paris Color Riche polishes. Gel-inspired, these are €7.55 each, come in 41 shades and are very nice to use. Again, being a nude, this is quite sheer and needs a couple of coats for a decent level of colour
So, c'mere and tell me: what's your favourite in-the-nip nail lacquer?