 A couple of you have been blathering away about your love of Prestige eye liners and that made me realise we've never written about one of their liner offerings, Total Intensity. These are amazing. For something that costs €7.79 or so, the quality and longevity of these pencils is stellar.
So good, in fact, that they won a Prudence beauty award last year.
Advertised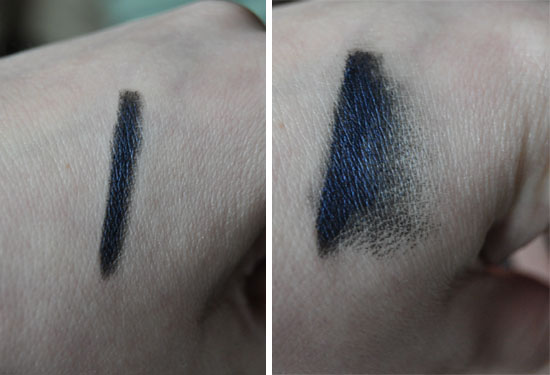 This shade is Fierce Blue but there are a few more colours in the lineup like a black, forest green and a taupe. They set on the skin so while they're super-smudgeable - as you can see from the swatch on the left - you need to work pretty quickly. The fact that they do become budge-proof means they stay where they're put, and can be used on the waterline too.
So, price, longevity, depth of colour and buttery consistency combine to make these boyos a great buy. There's just one drawback: the shades. They're fine - but they're all on the side of sedate, if not a little boring. I'd love to see a few more Urban Decay-alike choices, and if they did roll out some more brights, they'd definitely give that brand's 24/7 eyeliner pencils a run for their money.