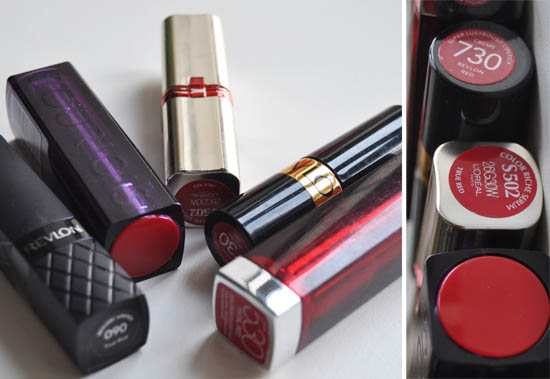 If there's ever a time of year for red lipstick, it's now. And sure, while I'll bang on about YSL Rouge Volupte this and Tom Ford that, there's plenty down the budget end of the market that gets a lot of wear on my lips too.
I had a Models Own lipstick to add to this quint of bargain beauties but I couldn't find it when I went to shoot the pix. So,  definitely add that in shade Scarlett to this round-up and get it if you see it - great shade, fabulous packaging and an under-a-tenner-price all make it a worthy addition to this little lot.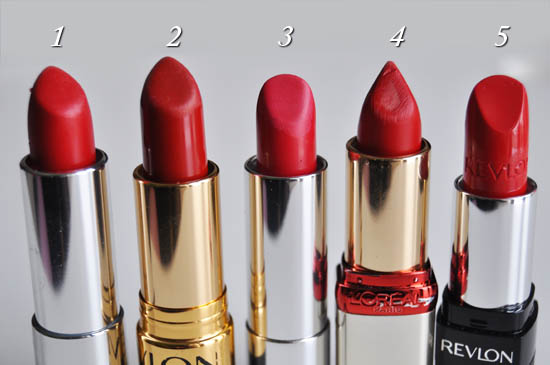 I'm not gonna go into an exhaustive review of each of these but over time I have found myself coming back to them because they all perform for (some or all of) the following reasons: great shades, good price, nice packaging, decent longevity and none of them turns my lips into the Sahara over the course of a few hours. There's some shade variation here too, and while I generally favour a classic 'true' red, these veer from slightly-brickish to slightly-raspberryish.
So, here's what I recommend:
Advertised
Maybelline ColorStay Sensational in Fatal Red (530). €9.25 is the damage and this is a matte red that's excellent for a retro look. Dowside? It's the one of the bunch that'll dry lips the most due to its formulation, but a bit of balm pre-application will help with that
Revlon Super Lustrous Lipstick in Revlon Red (730), €10.50. This looks quite deep in the bullet but is actually a really lovely shade on the lips, bright and true. It took me ages to use this because I thought it would be dull. Wrong! A cream finish gives this a little bit of shine and it wears well too
One of my favourites down the budget end of the spectrum, Bourjois has a whole suite of reds in Sweet Kiss Les Rouges.  This is Sweet Kiss in Rouge Fashion (76) and it's €11.99, a lovely raspberry red that smells of violets. Loads of pigment and a satin-finished result means I reach for this one a lot
L'Oreal Paris and I don't generally get on with each other for lipstick. I've never much liked the brand's shades or the formulation but this one, Color Riche Serum in  True Red (S502), €13.19, is one I do like. With a treatment core (you can just see it in the pic above) that adds a balm-effect to lips, this is a good day pick. It's a bit deeper and duller than the others so it's not so screamingly bright and can be used for office wear
Another Revlon offering: the Colourburst line launched in the summer and for €11 a pop, is very good. I have True Red, a glossy, bright colour that's very comfortable to wear and which really packs the pigment in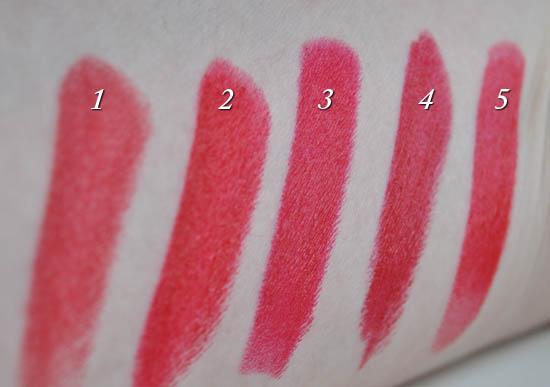 Swatches are in the same order as the lipstick line-up above.
What do you think? Tempted to try a bargain red for the festive season or maybe you already have one of the above? Tell us all in a comment.