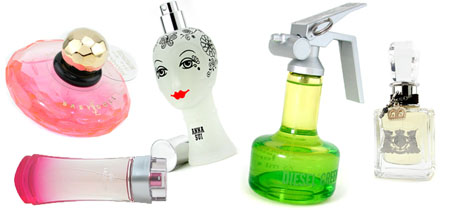 Small sisters can be tricky to buy for - if you don't know your Uggs from your Juicy handbags, well, you're shagged. Perfume can be a bit of a minefield too, so we've put together a few recommendations we reckon (most) teenagers will like. And all are from the boundless Strawberrynet, so you're guaranteed a saving too.
So, what's what? Clockwise from bottom left, we begin with Lacoste Touch of Pink, from €36; YSL Babydoll, from €27; Anna Sui Ooh La Love, €21; Diesel Green, €27.50 and Juicy Couture's signature fragrance, from €52.50.
Advertised
Happy shopping and buy before the 7th to ensure delivery in time for De Christmas.