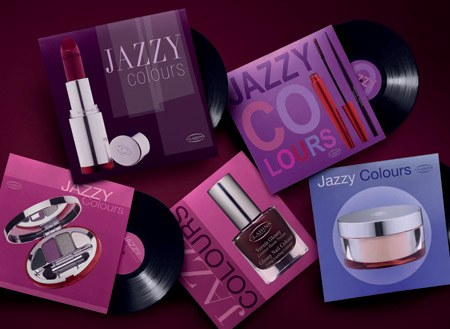 Descending the stairs into La Bodega wine bar last night was like going back in time: saxophones wailed, glam gals in tasseled dresses, sporting cigarette holders and fab headpieces sashayed about, Xpose were in the building and champagne was flowing like there'd never been prohibition. Handsome waiters dicked up in white ties and pork pie hats danced attendance on the mostly female crowd, and you better believe we were loving it.
The reason for all this 1920s fuss? To celebrate the launch of Clarins' new Autumn Winter makeup collection, Jazzy Colours.  Smoky eyes, dramatic lips and flawless skin are the essence of this collection, with a new shadow quartet, So Chic, €39, taking centre stage. There's also a gorgeous new loose powder that's silky smooth, a butter-soft kohl pencil plus new nail and lip shades. All very covetable and all dressed up in the brands signature red and chrome.
I had my eyes embellished by one of Clarins make up artists, and a good job he did - using the aforementioned palette and liner, he smoked me up good and proper. Lovely. Now my only problem is to try and recreate the look at home...
Advertised
Jazzy Colours is on counter now, at department stores and larger pharmacies.