 If there is one thing I love about Christmas, it has to be the gift sets. It's always enjoyable getting a limited edition package you haven't seen before that only comes out this time of year.
I'm delighted to be the bearer of good news with this launch. The Cocoa Brown Goddess Collection of body oils that will launch in stores this November. It includes Golden Goddess 30ml, Rose Gold Goddess,30ml, and the new Ice Goddess 30ml, all in a cute pink gift box.
The Goddess Collection €17.95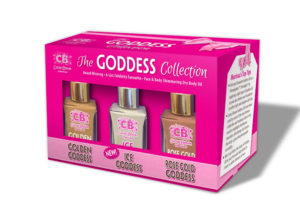 I am a big fan of the Golden Goddess range. I especially like it for the summer instead of using tan or for on top of tan to add glow. Golden Goddess has been a staple in my beauty bag before the recent launch of the Rose Gold version. The surprising inclusion of the new Ice Goddess Shimmering Dry Body Oil (to give it its full name) puts this Christmas Gift set at the top of my wish list.
Advertised
It's a body oil illuminator, something we don't often come across as body oils are usually more warm in tone. Cocoa Brown creator Marissa Carter describes it as a 'primerlighter' and suggests you apply a light layer to your face before foundation. We think the Ice Goddess oil is particularly good for pale skin as it has violet undertones which helps reflect the light, brightening dull skin.
Santa, are you listening? Or do I have to gown down to the shop on launch day, November 8th, myself?
What is your favourite Cocoa Brown product?