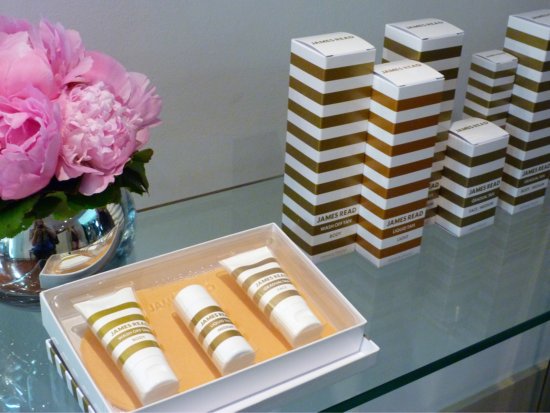 This is a launch that I've been eagerly (and impatiently) anticipating for several months, which is chicken feed compared to the eleven years that its eponymous creator has spent working in the self-tanning industry and dreaming of creating his own product line. Hardcore beauty fanatics will instantly recognise the name and I can guarantee that even those struggling to place James Read will have seen his work, because this is the tanning expert that the A-listers trust to fake a perfect sunkissed tan.
Lauded as the UK's leading self-tanning expert, when he's not prepping celebrity skin in Hollywood for the red carpets of the Oscars and the Grammys, James is working with an international client list that includes Rosie Huntington-Whiteley, Sienna Miller, Lady Gaga, Victoria Beckham, Mariah Carey, and, er, yours truly. In London, James operates out of the Agua Spa at the Sanderson Hotel, and in this town many a magazine editor's golden glow comes courtesy of his tanning gun (leading James to joke at the launch that he'd seen most of the assembled journos naked.)
Two years in the creating, testing, and perfecting, his first foray into the retail tanning market came about following an approach from an investor on Twitter. The result is an eleven-strong suite of high-end face and body products catering for fair and darker skin, and James has been very hands-on in its development, which he admits made him a bit of a persona non grata where the labs were concerned.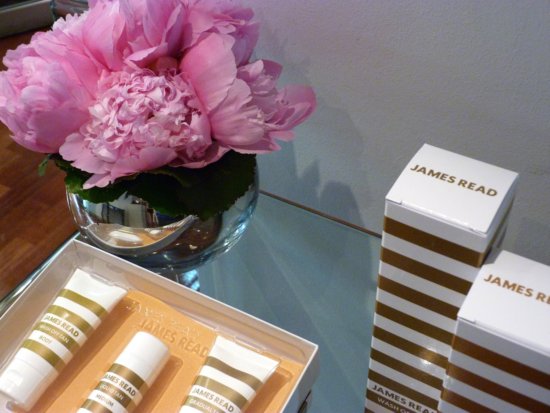 Clad in good-looking striped packaging inspired by an Art Deco bronze palette which taps into fashion's current flirtation with the 1920s and foreshadows The Great Gasby mania that will no doubt accompany the movie release later this year, the emphasis is on ease of use, hydration, and, of course, results. The fragrance-free formulations are infused with hydrating hyaluronic acid, anti-ageing co-enzyme Q10, aloe vera, and cell-renewing red algae and the range includes gradual and wash-off offerings as well as a liquid tan which develops in six hours.
Advertised
Perhaps most intriguing, though, is the BB tan for face.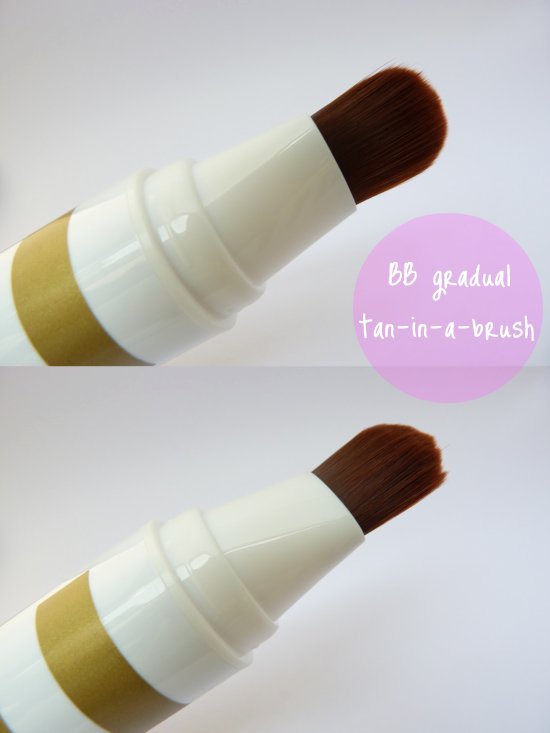 An industry first, it's available as the innovative brush pen seen here (€28) or in a more usual pump dispenser (€26) and combines skincare benefits with a touch of self tan rather than coverage. It's super sheer and promises to instantly perfect the complexion by disguising imperfections, illuminating, and hydrating skin, providing a good base for make-up while the gradual tanner in the mix develops over time to give a subtle golden glow. I think the hands-free brush version might also be a winner for touching up areas like the backs of hands that fade in jig time.
Top tan tips:
James recommends applying wash-off and developing body tans with a tanning mitt for best results, using long, sweeping downward strokes to ensure colour is blended evenly for a flawless, professional finish
To prevent a build up of old colour which will ultimately turn clumpy and fade in uneven patches, use gradual tan ideally twice but no more than three times a week
Before applying tan to the face, cleanse skin and then use cool water or an ice cube to prevent the tell-tale blackhead-alike effect that can be caused by tan gathering in pores
Advertised
Update: James Read Tan is now available in Harvey Nichols, Dundrum.
Price list:
Gradual Tan Face (light or medium, 50ml) €23.50
BB Gradual Tan Face (light or medium, 50ml) €26
BB Gradual Tan Pen (light or medium, 25ml) €28
Liquid Tan Body (light or medium, 250ml) €31
Gradual Tan Body (light or medium, 200ml) €31
Wash Off Tan Body (200ml) €31