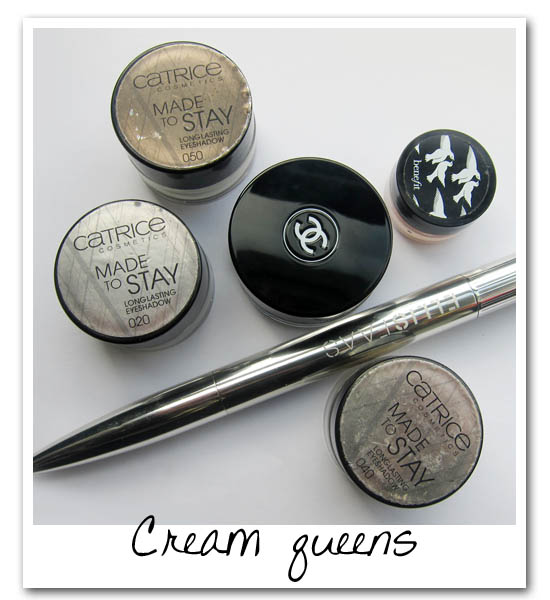 Confession: I used to think cream shadows were a bit, well, naff.
My impression was that they were all frosted, unflattering colours that - despite their promises - creased up quicker than my parents, when they caught sight of me wearing 'em. Granted, I was basing all this on the products that were available and affordable to the 14-year-old me, when blue and pink creams were the very height of fashion.
But cream eyeshadow is once more in the ascendant, helped considerably along by last season's metallic trend; most powders just can't cut the mustard in terms of the depth and dimension offered by their creamier sisters. The new formulations have come on in leaps and bounds, with the best cream shadows now claiming to be crease-proof, long-lasting and easier to apply and blend.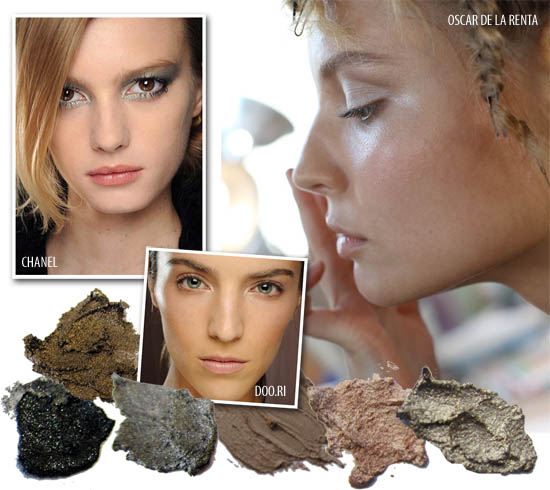 Swatches, from L-R: Catrice 50, Chanel Mirifique, Catrice 20, Ellis Faas E107, Benefit RSVP, Catrice 40
The cream revival kicked off during Paris Fashion Week last autumn when Peter Phillips sent models down the Chanel runway with a veil of Illusion D'ombre in Epatant, €28, a silvery grey green, worked right up to the brow bone and underneath the eye. The trend continued at the spring shows which saw Fantasme, a shimmery white shade, accented with flicks of black liner.
Creams are also fab for achieving this season's minimalist look – work a champagne, nude or taupe cream over the lid for a subtle sheen. It takes seconds and looks effortlessly chic – Gucci Westman for Revlon demoed a similar look at the Oscar de la Renta spring show in New York, using only her fingers to apply a shimmery beige cream on the models' lids, and a brown cream to the crease.
At Chloe, MAC Fusion Gold Metal-X Cream Eye Shadow was used to give a radiant glow, and the same shade was used by Tom Pecheux at Doo.Ri, during New York Fashion week. This colour came out as a limited edition in December, but Mac tells me it was so popular that it's likely to make a comeback.
Advertised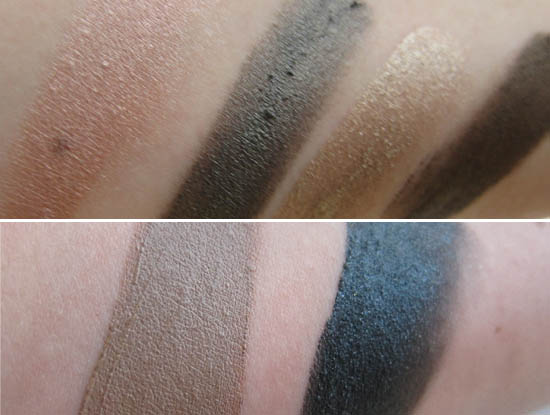 Swatches Top:  L-R Benefit Creaseless Cream Shadow in RSVP; Catrice Made To Stay Longlasting Eyeshadow in 020, Romans Gone Bad, 040 Lord Of The Blings and 050 Metall of Honour. Bottom: Ellis Faas (left) and Chanel Illusion d'ombre in Mirifique
In the meantime, you could try Benefit's Creaseless Cream Eyeshadow range, €22 - I love RSVP, a sparkly champagne – or Catrice's excellent line of metallic creams, fittingly called Made to Stay Long Lasting eyeshadows. For just €2.99 each you'd be justified in collecting all six shades: at least that's what I tell myself; I'm on number three and counting.
For times that require something a little less bling, I've just discovered something really amazing. (And I may as well come clean: I made this discovery through Gwyneth Paltrow's much maligned newsletter, GOOP) Dutch makeup artist Ellis Faas – whose client list features Kate Winslet, Charlotte Gainsbourg and Marion Cotillard, to name but a few – has her own innovative beauty line comprised solely of cream products, all housed in futuristic, bullet-shaped silver tubes, which we've blogged about a time or three before.
I just bought Creamy Eyes in shade E107, a grey-toned taupe shadow that's the perfect work-appropriate shade. This was €26 plus a €3.50 shipping and handling fee, through the Ellis Faas site.  You can also buy from Mise Beauty and Harvey Nichols, Dundrum.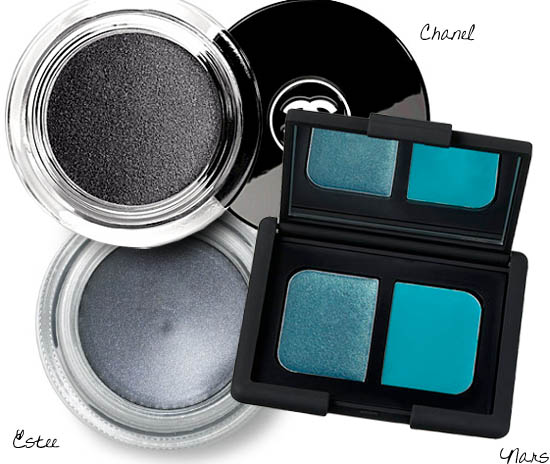 Neutrals not your thing? Check out the latest addition to the NARS Duo Cream Eyeshadow line, Burn It Blue, €34. These turquoise and iridescent ocean-blue shades were used at the Phillip Lim spring show in New York to create major impact. They're the perfect nod to the pastels trend that's still the biggest story this spring.
Looking ahead to summer, the festival girl, glam-grunge look is set to make a comeback and the easiest way to rock the trend is with a sexy smudge of dark cream shadow worked right around the eyes. I'll be reaching for Chanel's Mirifique – or you could try Double Wear Stay-in-Place ShadowCremes from Estee Lauder, in Blue Velvet or Midnight Kohl, €22 each.
Advertised
And a surefire indication that the cream trend is going nowhere fast? The King of Cool, Mr Tom Ford himself, has revealed plans to add a new cream eyeshadow range to his achingly beautiful makeup line. Cream Colour for Eyes will launch in four shades, priced at €35 each. They're not available til April, but sure that gives us something lovely to look forward to …