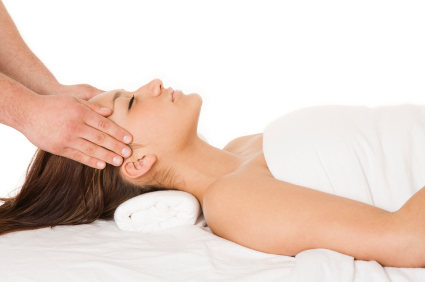 I've been excited about the forthcoming Dr Hauschka Spa in Dun Laoghaire for a good year or so now. I'd hear little whispers now and then: "yep, it's going to be open in March", and then you'd hear, "I was told Christmas". But finally I got the call. The new Heaven and Earth Day Spa - the first Dr H spa in Europe, apparently - opened last Thursday, and yours truly was first through the door. Not by design, I hasten to add, but by a happy twist of fate, my face was the first to be worked on in this new and very nice facility.
Find it behind and above Fired Earth at the Monkstown end of Dun Laoghaire's Georges street, and prepare to leave all stresses and strains at the door. The reason this baby was so long coming is that its owner, Mary Berkery, insisted it be just right. It's worth the wait: the five treatment rooms are cocoon-shaped - no sharp corners in nature, after all - corridors are wide and spacious, the feel is calm, serene and utterly relaxing. And speaking of that, there are snooze and lounge options a-plenty - a circular meditation room, a small and cosy relaxation space plus a plus a 40 winks room, dedicated to cat-naps, are all available. There's an infra red sauna (much nicer than the usual sauna experience), a large wetroom for body treatments and an airy juice bar and retail area to the front, too. Decor is muted, the finish is superb - doors are Irish elm banded with oak, paint is non-toxic, Irish linen and plants abound.

It's quite simply the best day spa I've ever been in. This, my pretties, this is how to do a day spa. But lest I forget - what about the treatments? I had a signature Dr Hauschka facial, which is so much more than a face treatment. It's a two-hour holistic experience that's nurturing, relaxing and goes in a cosseted flash. I'd go back in a heartbeat for another, and I might just do that - for the rest of August, treatments are slashed in price, making this an amazing time to visit. Prices are currently as follows:
Advertised
Dr Hauschka Treatment: normally €185, a mere €85 for August
Body treatments (including cranio sacral therapy, massage, reflexology, aromatherapy, shiatsu and structural integration) normally €95-€120, for August: €65
You can add on an infra red sauna session to any treatment for €10, and each therapy includes a complimentary living food juice and starter pack of natural care products.
Contact info: 19 George's Street Lower, Dun Laoghaire, 01 284 3333, [email protected]