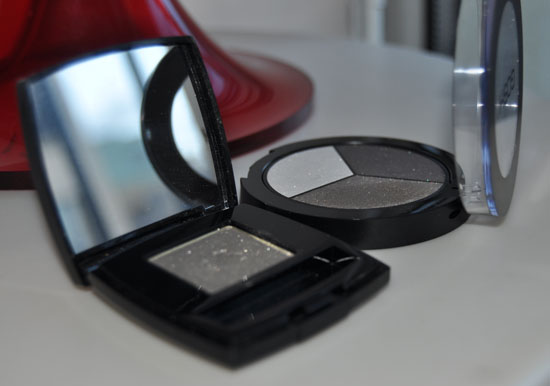 Erika F by Lancome is a bloggers delight: it's one of those shadows that got adopted across the beauty blogosphere and it rapidly achieved best-selling status as a result. It is gorgeous - I told you a little about it just after Christmas - and it's a greeny-silvery shade with lots of intensity and a slightly golden, pearled, shimmered finish. It's perfect for night-time eyes.
After meeting with the A Wear gals last week and making off home with a bag of swag, I noticed a little something. Namely, that one of the shades (un-named on the packaging, unfortunately) in Gosh's Trio Eye Shadow in T R13 Diamond Rock, is almost a dead-ringer for Erika F.  They're facing each other in the pic above, and there are swatches on my hand right after the cut.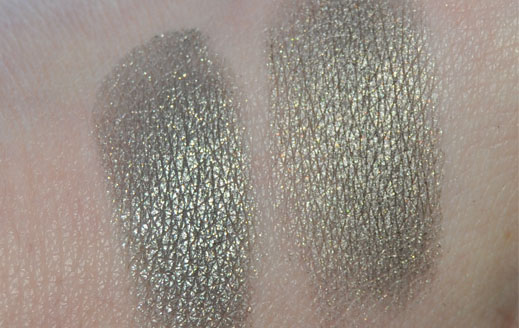 Advertised
This was taken under flash, hence the extreme sparkliness - a daylight shot did neither justice.
Lancome is on the left, and Gosh is on the right. You can see they're not a 100% match - the Gosh shadow is more golden-green and warmer, but really, they are very very similar in wear. I've been using it and really liking it - for the price, a very decent €11.99, it performs really well, has good pigmentation, a creamy, easy-to-blend texture and good longevity.
So, if you don't want to splash the €23.50 required for Lancome's Erika F, then this makes a great subsitute. Thumbs up, Gosh!