 I love how posts referring to summer weather can seem so timely one day and then a world removed from reality the next.   However, I'll keep my fingers crossed that by the time you're reading this, the sun will be shining out of a bright blue sky, the hail will have momentarily halted and snow lies only on high ground.
Seriously though Summer weather may be making only fleeting appearances at the moment, but I've nevertheless honed my daily makeup routine down to a few basics, which have the added bonus of being perfect when time is limited. No brushes are required here and to be honest, no special artistic skills are needed either - sheer products with creamy textures apply and blend out easily with the fingertips.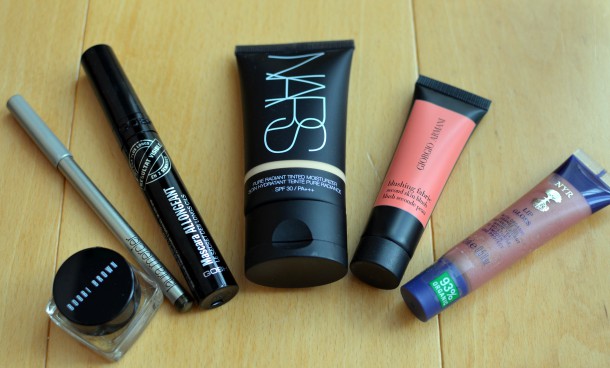 I start with a touch of NARS Pure Radiant Tinted Moisturiser, which I've already waxed lyrical about here. Bright summer light means a heavy face of foundation can look unnatural, so a sheer product is perfect (try some of the BB-creams we've rated here). Resist the urge to apply it all over and use just a touch to even skintone under the eyes, around the nose and anywhere else you feel it's needed. I like to skip powder, though if the thought of going without has you breaking out in a nervous sweat, try some blotting papers to dispel shine.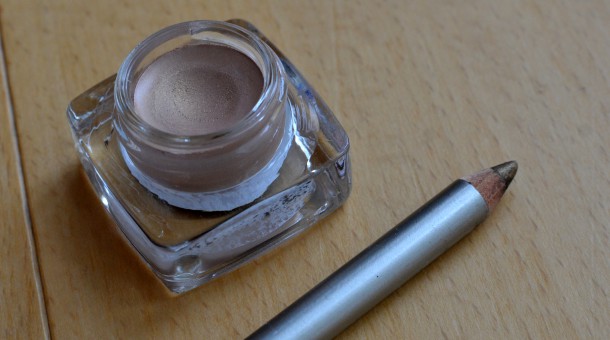 I'm most excited about my recent discovery of a product that isn't new at all - Bobbi Brown's Long Wear Cream Shadow (€24). I'm wearing Sandy Gold, a pale shimmery golden beige that is perfectly easy to apply with my fingertip and blend out over the lid. I usually need an eye shadow base with powder shadows, so I love that this one lasts the day without budging or creasing and also helps me remove one step from my morning routine. For a cheaper option, try Maybelline Colour Tattoo Eyeshadow.
Advertised
The dark liners I usually prefer can look a bit too harsh with lighter makeup, but I do still like a bit of definition at the lashline, so I'm wearing Laura Mercier Kohl Eye Pencil in Black Gold. This dirty gold shade is dark enough to give me the definition I need so that my eyes don't disappear into my face, without looking harsh in strong light and the shimmery finish is pretty but subtle. I apply it heavily on the outer edge of the upper lashline and then gradually thin the line towards the centre of my eye, until there's only the faintest touch of colour pressed into the base of my inner lashes. These pencils are soft but the Bobbi Brown shadow provides a great base and it lasts the day on me without smudging or fading. All I need to finish the look off is an eyelash curler and some mascara.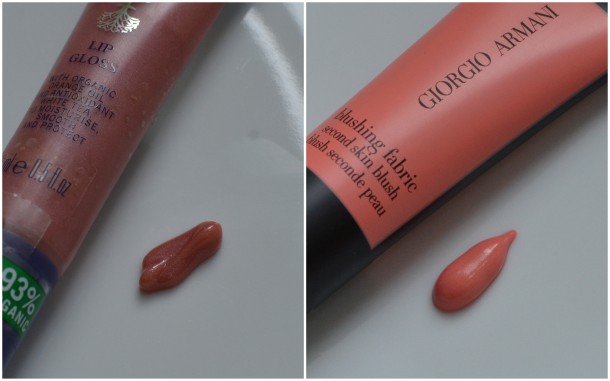 Cream or liquid blush is a perfect accompaniment to the sheer base. Start with a small amount and build up to the desired level of colour - smile into the mirror when applying and apply three dots of colour in a triangle on the apples of your cheeks and then blend out and upwards towards the temples. I'm loving the peachy pink of Armani Blushing Fabric in shade 3 (€35.50), but you could also try Bobbi Brown Sheer Colour Cheek Tint or MAC Cremeblend Blush.
For lips - you've guessed it - I'm also keeping it sheer and easy. This Neal's Yard Remedies Lip Gloss in Damask Rose is my colour of choice at the moment. It gives a lovely natural shine and hint of colour and is easy to reapply without a mirror, but if you prefer lipstick to gloss or like more colour, then there are a huge amount of sheer finish lip products in bright colours out there at the moment - try Bobbi Brown Sheer Lip Colour or Giorgio Armani Rouge d'Armani Sheer Lipstick.
Do you have a brighter day makeup routine going? If so, let us know what you're using!