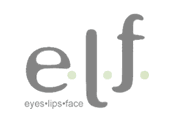 What could be more perfect for Christmas than a cosmetics brand called e.l.f?
What it actually stands for is Eyes Lips Face, and it's a really, really cheap brand who claim that their "philosophy is that beauty comes from within" and that they believe  "that innovative technology, quality ingredients and superb delivery systems should not be limited to prestige retailers. Every woman should have the opportunity to participate in innovation, without sacrificing her budget". And budget it is - loads of the products retail at £1! True to their word, they don't skimp on what's important - the range is designed with daily use in mind and the products contain sunscreens, and are suitable for those with problem skin.
Cheap treats include a lush sounding Shimmering Facial Whip which is a multipurpose, on-the-go facial shimmer cream which is packed full of vitamins B, C and E. It's like cheapo HighBeam! Their Shielding Gloss range is fortified with SPF15 and comes in 6 shades, and face products include Tone Correcting Concealer and Clarifying Pressed Powder.
Advertised
There are also products for nails and a tool range which includes brushes, eyelash curlers, toe separators and pencil parers - and all at a mere pound sterling each. You'd be hard pressed to spend a tenner, but I think I'm definitely going to try!