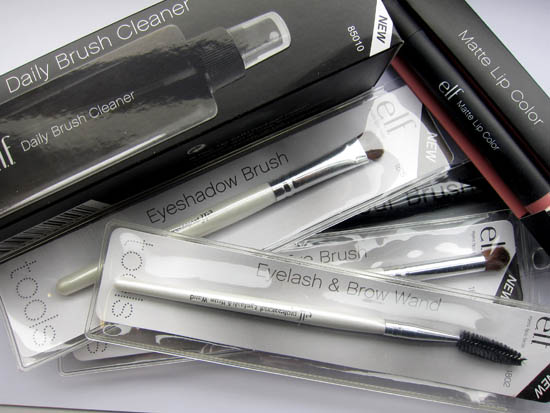 Emma's ELF haul
I'm an equal opportunities cosmetics buyer - I have little to no brand loyalty and will try - and buy - bits from high-end to budget and everywhere in between. I like a bargain, but I like results more, so part of me is still just a little wary of products that seem excessively cheap. With most items in the regular range under €2, ELF Cosmetics certainly falls into that category – but there are enough glowing reports from the blogosphere to encourage me to give 'em a go. And at those prices, sure what harm?
But I hadn't factored in the popularity of the brand. I wanted to get my hands on a few of their tools, like the daily brush cleaner, blotting sheets and brow stencils, as well as the eye primer and a few other pieces of kit, but every bleedin' time I checked, some or all of them were out of stock. Has anyone else had this experience?
So I was excira and delira when I checked last week and the brush cleaner actually went into my (virtual) basket. I couldn't get the other bits and pieces I just mentioned, but I did pick up three brushes from the regular line, along with a brush and a lippie from the Studio range. With delivery it all came to just over €20. For six items! Where else would you get it?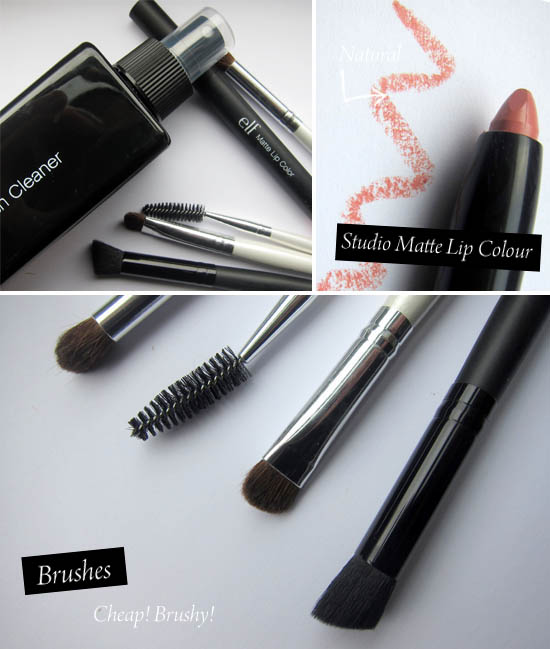 Advertised
Everything arrived quickly and in one piece, and I set to work testing out my new products. I'm already mad about the Blending Eye Brush, Eyelash/Brow Wand and Eye Shadow brush, which were all €1.70, and the €4 Studio Angled Contour brush. They're all really soft and easy to use and there's been zero shedding so far, though I've yet to give them a proper clean with some baby shampoo. I'll report back when I do.
In the meantime I've been using the anti-bacterial brush spray, €4, to lightly clean and disinfect between uses, and I'm impressed with this too. I'd heard it's heavily scented but to my nose it's rather pleasant, as well as being easy to use: just spray directly onto the brush and swirl onto a tissue. It promises to keep brushes lasting longer for extended use, but the jury is out on that particular claim so far.
The last thing I purchased was the Studio Matte Lip Colour in Natural (also available in coral, tearose and praline), also €4, which is a jumbo sized lip pencil for long lasting, matte colour. Like all mattes this is a bit on the drying side but it stays put for a good five-to-six hours before I have to reapply, and the colour is a gorgeous, pinkish nude.
ELF, I don't know how you do it, but hats off. Are you a fan, and are there any other must-haves I should try next?