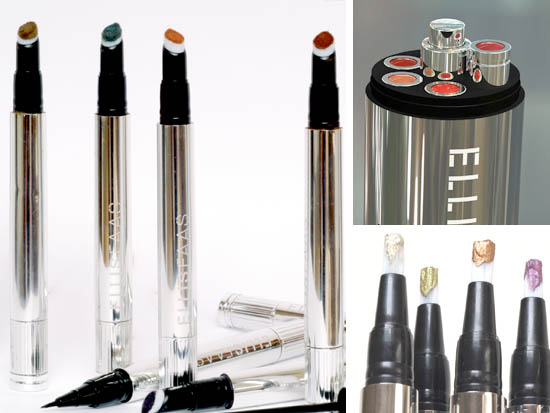 Good news for fans of niche: Dutch beauty brand Ellis Faas, which has had an outing or three on Beaut.ie, has just gone into Space NK at Harvey Nichols in Dundrum. A really interesting edit, Fass' approach is all about liquids and natural, bodily-hued shades so everything suits everyone, is the idea. Famously, one of her lipshades, Ellis Red, is the same colour as blood so the theory goes that it will work with all skintones.
I'm a fan of her gorgeous Creamy Lips liquid lipsticks which come in stylin' elongated silver bullet-alike packaging and the liquid shadows ain't bad neither. Previously, Mise Beauty in Dundalk was the sole stockist and while you can still buy in store and online, Dublin gals now have a chance to pick up the products in person too.
The newest offering from Ellis Faas are Ellis Eyes Lights, liquids that are designed to complement and work with the existing liquid shadows in the range. More than mere highlighters, they give a 'small metallic sheet' effect, apparently, and also work to give gloss finish, but with none of the resultant mess. Sounds intriguing. I look forward to checking 'em out in person. In the meantime, here's the pricelist for the range. Will you be heading Dundrum-wards for a look?
Advertised
Foundation – Skin Veil - €45
Concealer - €28
Compact Powder - €17
Blush - €28
Eyes - €26
Lips - €25
Mascara - €23
Eyeliner - €26