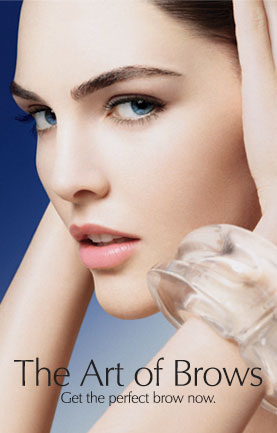 Last year when I visited Asta in Brown Thomas to check out the Estee Lauder Brow Bar promo it was like a light going on as she imparted eyebrow wisdom the like of which I'd never heard before.
Now I understood why it was not a good idea to pluck your eyebrows while looking in a hand mirror. (You don't see how one eyebrow matches up with the other and the potential for disaster is huge).
Now I understood why I had a gap in the middle of my left eyebrow that I had to fill in with shadow every morning. (I was cutting too much off).
And I finally understood that the reason eyebrow waxing hurts so damn much is because the therapists are usually doing it all wrong and using the wrong quality wax. (They should be using facial hair quality Lycon wax or similar.)
So this time I made sure I had not over plucked, over cut or plucked one eyebrow in isolation. In fact I did not touch my eyebrows for THREE WEEKS in order to make sure Asta could get the best shape. She actually took a snap of the Yeti brows before she started so we could do a before and after - but I just can't bear to put it up, I'm sorry.
Advertised
Needless to say I was thrilled with the end result.  Read this to find out how she works her magic.  And the experience is made better this time by the addition of a hydrating eye mask.
Click here to find out more and make your booking.  But hurry - this was a sell out this time last year and it's going into Beaut.ienomics cos it's just an all round bargain.  It costs €20 for this expert service which is redeemable against products and a mini eyelash primer and doublewear mascara plus eyelash curlers make up your free gift.