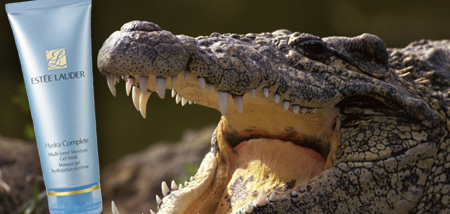 Following my trip to Brown Thomas to have a Beautiful Skin Solutions NCT at the Estee Lauder counter, I've been trying out some of the recommended products.
One I'm seeing immediate benefits from is Hydra Complete Multi-level Moisture Gel Masque.  It's blue, it smells fresh and delish, and the texture is unlike any other masque I've tried. It's got that smooth texture that says silicone to me, and the reason that's in there is to help form a barrier against dehydration. It works: slap it on for ten minutes and then wipe off the excess with a warm facecloth. Skin is smooth and plump with no tightness. This is going to be my winter weapon against days that are so cold and blustery you feel the top layer of your epidermis has been stripped off, and when you get home, you're greeted with delightful crocodile skin. Nice.
I've found another good use for it too: on days when I've been wearing makeup all day and have to go out in the evening, I've been removing my daytime maquillage, whacking this on, and moisturising before re-doing my look for night. The result? A fresh-faced finish.
Advertised
You'll get this at any Estee Lauder counter, and my best guess is it'll be in and around the €40 mark.