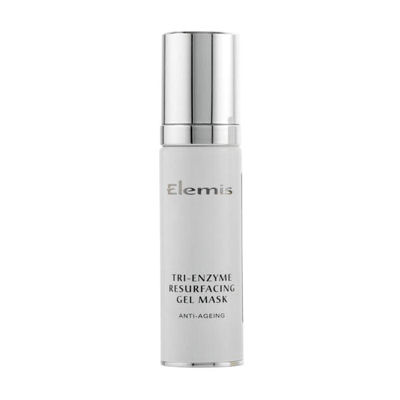 Elemis Tri-Enzyme Resurfacing Gel Mask is exactly the kind of exfoliator I heart. Slap it on, leave for eight-to-ten minutes, rinse off, et voila - new skin!
There's a warning on the packaging of this stuff about how it tingles powerfully on application, so I was braced for all kinds of stinging and burning and similar craziness, what with the recent cinnamon madness an' all, and frankly I was a bit disappointed. Call a slight, soothing, very vague menthol ooh-feels-like-my-skin-is-breathing sensation tingly? Bah.
Despite not setting my face on fire - which I grudgingly suppose is mostly a good thing - this mask performs very nicely as a skin resurfacer that requires the bare minimum of user. The combination of amino acids, Amazonian acerola cherry, white truffle poria cocos, great burdock and erysimumt (don't they all sound yum?) leaves skin looking refined, glowing, and noticeably plumped up.
Advertised
Vay nice stuff indeedy.
(We have a sinking feeling this may have been discontinued, argh, but you can still find it over on feelunique.com for €54.)