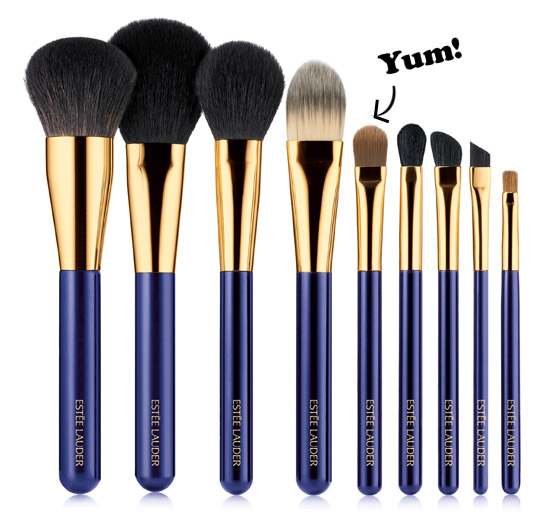 Estee Lauder recently released a new set of makeup brushes which I've been eyeing covetously, because of course, I definitely don't have enough makeup brushes to  be getting on with as it is. Luckily for me and my product-loving ways, they sent me a few to try.
With nine in the line-up, I got a powder brush, a foundation brush, an angled eyeliner/brow brush and a concealer brush to check out. I can confirm that the brushes are pretty to look at, bristles are beautiful, densely packed but very soft, and the powder and angled brow brushes are great and welcome additions into my collection.
The foundation brush is also very good - but I'm a buffing brush kinda gal these days so it won't get the love it deserves. By the by though, these sort of brushes are good for stick/mousse foundations, so if you're a (shudder) Max Factor Pan Stik kinda gal, or a oh-they're-much-nicer Bobbi Brown stick foundation lady, then you'll be quids in with this.
One brush stood head-and-shoulders above the rest for me, and it was the one I'd probably have been most likely to overlook, too. The concealer brush. Yup. Concealer. It is fantastic. Now, I do use a concealer brush on a daily basis but the one I had been using - and which was doing a grand job, so I thought, had a much smaller head. A wee version of its foundation sister, the Estee Lauder version has a lovely, well-shaped firm bristle mass that's soft and pretty much applies your concealer with one swoop.
Advertised
Into the pot of Benefit Erase Paste, and onto the shadows at the sides of the nose and outer corner of the eye and bam, I'm done. Because it's bigger than my old one, concealing any redness on cheeks and masking any zits that have erupted on my chin takes about two seconds too. In summary, it's great, and well worth the €27.50 price tag.
Want to check out the prices of the rest of the brushes? They're after the cut.
Powder Brush, €35.50
Powder Foundation Brush, €24.50
Foundation Brush, €24.50
Concealer Brush, €27.50
Blush Brush, €27.50
Contour Shadow Brush, €42
Blending Shadow Brush, €24.50
Eyeliner/Brow Brush,  €24.50
Lip Brush, €42
Get Beaut.ie Delivered
Stay updated with Beaut.ie newsletters full of the latest happenings at Beaut.ie as well as great offers and things we think you might find interesting .