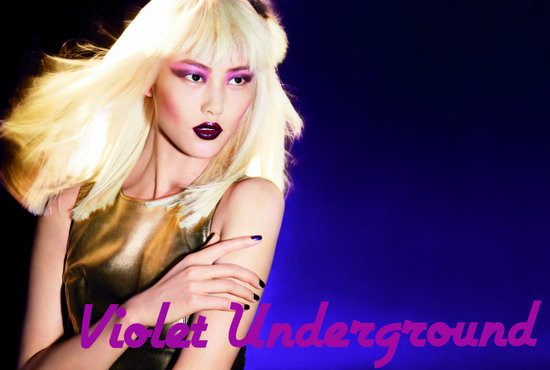 Estee Lauder, I am liking the cut of your jib! Hot on the heels of the Beyond Black and Metal Mania nail collections and the Pure Colour Vivid Shine collection (featuring the fab Gunmetal luminiser), comes Violet Underground, on counter now. I really like this one - it's got a birra drama going on but with a definite glam rock vibe, it's not taking itself too seriously. It's luxe, but it's also a lot of fun.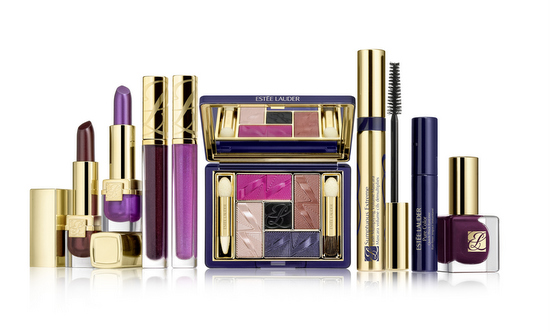 If you're a fan of deep, dramatic eyes, lips or nails, then you're in for a total treat - this collection has 'em all! Nail polish in Black Iris, €20, looks like a right stunner, and there are two shades each of lipstick,€24, and gloss, €21.50, in varying purple hues. But the eyes are the real star of the show here and I have the gorgeous Violet Underground palette and quick-thick liner to show you today.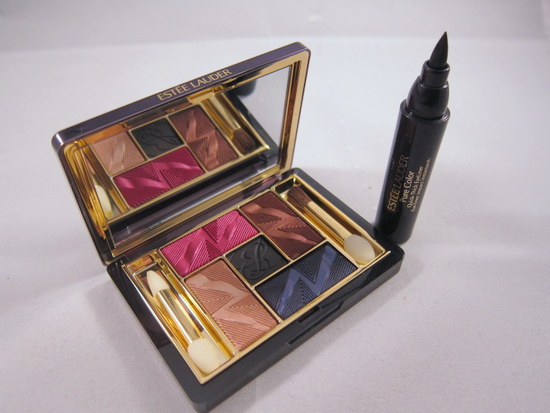 The eye palette uses the same fancy gelee technology we've seen from the brand before: it means the colours are longwearing, can be used wet or dry, and deliver a gorgeous high shine effect. I'm a big fan of Lauder's shadows - Cyber Green made it into my top 5 eyeshadows post - and these do not disappoint. Creamy and easy to blend, these are just a dream to work with.
Advertised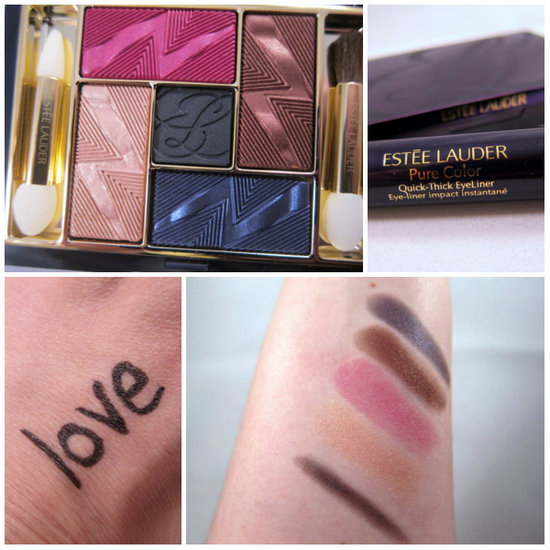 All colours swatched dry
The colours aren't scary either, they're actually super wearable - even that pink swatches much softer than it looks in the pan, when you use it dry. Wet, it's much more intense - but personally, I'm not sure when I'd have occasion to use it that way. The bronze/brown shade has a rich red base and the peachy shimmer is a great highlight, while the matte black shade packs a powerful pigment punch and is perfect for lining the eyes.
My favourite though? That eponymous violet - a rich, vibrant, blue-leaning purple that somehow intensifies my dark brown eyes. This is €53 which for five shadows of this quality is really not too shabby. And I love that they're embossed with lightning bolts, and they all have a slight metallic sheen!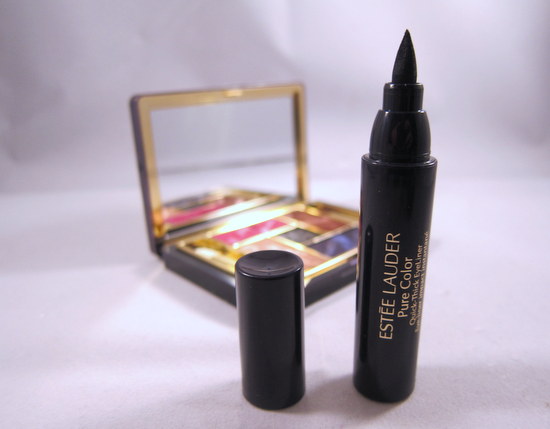 As a self confessed pen eyeliner junkie with a weakness for punk rock, I think we all know how I feel about this. The Pure Color Quick-Thick EyeLiner in Punker Black is adorably chunky, delivers a thicker than usual line and is priest's sock black. It's my new favourite eyeliner, but at €27.50 I think the pricing's about a fiver too steep. But it's super charming and I adore it nonetheless.
Advertised
If you like what you see, hotfoot it to your nearest Estée Lauder counter - it's limited edition and it's out now. Have you tried any of the Lauder gelee formulations? And is any of this lot piquing your interest? Tell us in the comments!