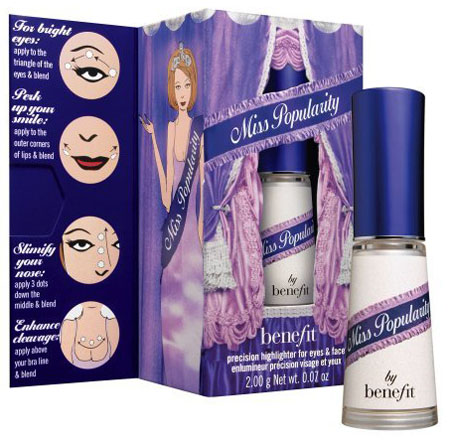 If you're intending to do a spot of online shopping with Benefit in the next two weeks, be sure to stick in the promotional code MISPOP08 as you check out. Exclusive to Beaut.ie, if you don't mind, this code will bag you a free Miss Popularity soft white shimmering highlighter when you spend $50 or more between now and 7th Nov 2008.
Now incase you've never had cause to use one of these promo code yokes before or are just deliriously excited at the prospect of a freebie and your mind's gone blank, here's exactly how it works:
Make sure to click this link to start shopping.
Add Miss Popularity to your shopping cart once you've spent $50. (This might seem a bit arseways but is vay important - rest assured that once you stick in your promotional code, it becomes a freebie!)
Enter the code MISPOP08 at checkout.
Advertised
Offer runs from 13 Oct - Nov 7th 2008 with a spend of over $50 and is exclusive to Beaut.ie. Be sure to add Miss Popularity to your shopping cart to get it for free.