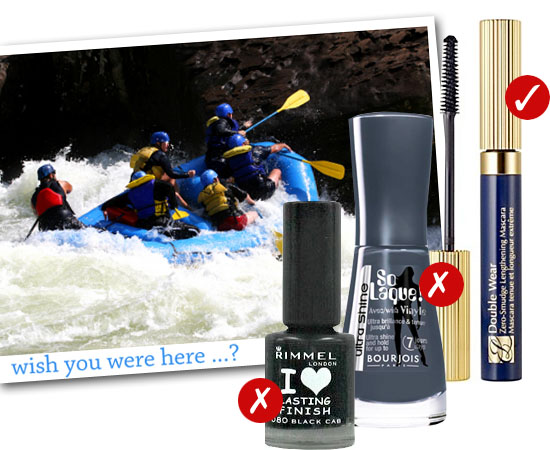 I wish white-water rafting had been on my list of things to do before I turn 30, because I would now be able to strike it off and be only delighted that I was making such great progress with the aforementioned list. Three weeks ago while on my holliers in Zambia, I apparently took leave of my senses, donned a wildly unflattering hard hat/life vest combo, clambered 100 metres down the side of a gorge, and hopped a small yellow inflatable raft with six like-minded eejits and an instructor to negotiate the mighty Grade Five Zambezi river.
There are only six grades of difficulty when it comes to classifying rivers and rapids, with Grade Six considered to be unrunnable; to say I was nervous would be an understatement of epic proportions.
To calm my nerves the night before, I DIYed a mani-pedi with Bourjois So Laque in Bleu Asphalte on fingers and Rimmel Black Cab on toes, and then proceeded to apply my make-up as normal the following morning, having apparently forgotten that I was on my way to get half drowned.
Still. Several hours and 20 of the scariest, most exhilarating, wettest, coldest kilometres of my life later, it was interesting to assess how my slap had held up to the most extreme bit of testing I've ever put products through.
Estee Lauder Double Wear Zero Smudge Lengthening Mascara
I wasn't blown away by this when I first tried it, and while it's still not the most dramatic mascara I've ever used I've actually grown to like it for everyday eyes. It does a nice job of holding a curl and stands up admirably to my terrible habit of rubbing my eyes during the day. With a lesser mascara, that kind of absentminded behaviour can result in panda-tastic smears, smudges, and flakiness.
Even given its past performances, I was pretty surprised to find that my mascara had survived the tumultuous trip down the Zambezi almost completely intact. My river-soaked lashes were somewhere between straight and pointing downwards, so the curl had disappeared, but otherwise things looked almost immaculate.
Respeckt.
Advertised
Bourjois So Laque nail polish in Bleu Asphalte
The colour of this polish is just gorgeous. It's a moody dark grey with bluey, purpley undertones, and in addition to looking divine it applies really nicely, too. Two coats usually does the job, and I spent (what could have been) the last supper admiring it on my filed-right-down-to-nubbins nails.
Unfortunately, taking my nails down to the shortest they've ever been wasn't nearly enough to save them or their lovely paint job from the ravages of white water rafting. Turns out all that desperate paddling and trying to smash your fingers under a safety rope when an instructor screams at you to get down and you think you're about to die is pure hellish on hands.
The polish on every single nail had chipped to bits, but considering several of my nails had bent back on themselves and been ripped to shreds and soaked for a couple of hours, it was actually fairly impressive that any had managed to survive at all.
Rimmel Lasting Finish nail polish in Black Cab
Black is probably my favourite colour eva on my toenails; I always end up coming back to its glam yet edgy ways when I need a foot flattering, go-with-everything pedicure shade. This particular bottle of Black Cab is seriously ancient and has gone a bit gloopy, which I didn't notice when I was I packing it, but it still looked grand once two coats were applied with painstaking care and finished with topcoat.
It looked good against the yellow floor of the raft, too, even when small pools of the Zambezi started to form around our feet. By the time we reached the gorgeous white sandy beach at our take-out point, though, my formerly perfect paint job was in tatters. There were chips aplenty and the surface was dulled and criss-crossed by tiny cracks.
Things have been much worse, of course.
Advertised
My hair could have been ruined by that damn helmet.