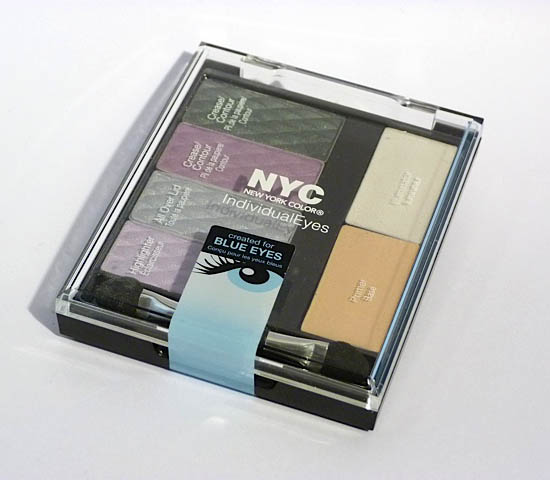 We've seen eye-colour specific products before in the shape of things like Smashbox Photo Op Eye Enhancing shadows and L'Oreal Paris Luminizer mascaras and liners, but none have been quite so affordable as NYC's take on things. Their IndividualEyes Custom Compacts clock in at €3.99, and contain a quartet of shadows created to suit blue, brown, or green eyes, in addition to a flesh-toned eyeshadow primer and a silvery illuminating creme.
We got a goo of them around the time of their launch, and since then I've received Bryant Park to trial. Although this is the palette for blue eyes, it's made up of a mix of purples and greys that I reckoned would complement my sometimes green, sometimes hazel peepers pretty well.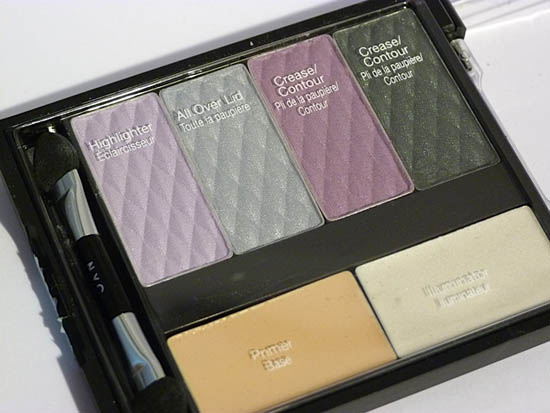 The packaging and presentation isn't exactly glamourous - not that you'd expect it to be for under four quid, mind - and the black plastic rectangle of a base with six individual pans of product and the usual double-ended sponge applicator, topped with a clear plastic hinged lid, is functional rather than fancy. It does feel reasonably sturdy, though, and the quilted design embossed onto the surface of the eyeshadows is a nice touch which prevents the palettes from looking purely utilitarian.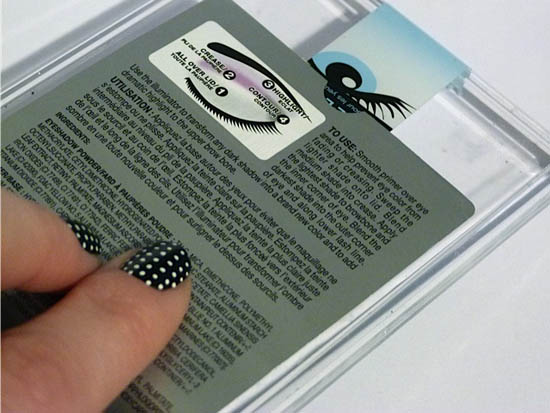 Advertised
While I've mostly been mixing and matching them with other make-up, the four shades are actually intended to be used together. Easy-to-follow instructions and handy explanatory diagrams on the bottom of the case together with a clear printed plastic insert showing which colour should be used where take the guesswork out of shadow placement.
All are quite shimmery - not unwearably so, but dedicated lovers of matte finishes won't find much to like here - and pretty finely milled. Pigmentation is a little on the scant side in the lighter shades; my favourite of the four shadows is the anthracite gray which, coincidentally, packs a proper colour punch.
Here, for your viewing delectation, are the contents of the palette swatched dry and also wet on my hairy beauty blogger arm: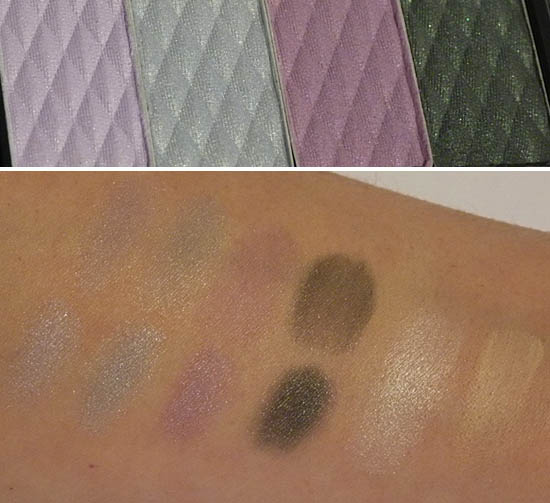 L-R: Highlighter, All Over Lid, Purple Crease/Contour, Grey Crease/Contour, Illuminator, Primer
Advertised
Have you tried any of the NYC Individual Eyes Custom Compacts?