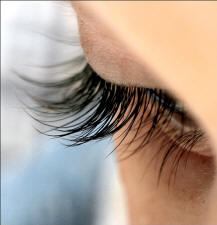 On Saturday morning I had myself a little enhancement.
I've been DYING to get eyelash extensions for ages. So off I went to Akina and in an hour and a half Barbara had transformed me.
"Would you like a dramatic or more subtle look?" she asked me. "Ooooh, dramatic definitely" I said.
A soft pad is placed over your lower lashes, so the top and bottom eyelashes don't stick together when the glue is applied. Then you close your eyes for the time of the treatment. The extensions are glued on to your natural lashes. It's a painstaking process. Each extension is applied separately and dried with a little puff of air.
Not painstaking for me of course. Nope, I just lay on the heated bed and drifted off.
Advertised
And then it was time to see the result. I loved it! There's nothing fake looking about these Xtreme extensions at all. They look really natural. You look like you... only better.
The extensions last for the lifetime of the eyelash. Each person has a different lash lifecycle of course, but generally speaking you can expect to get weeks or months out of this treatment. It costs €130 and if you go back in two weeks for your "top up" treatment that costs just €60.
You have to take special care of the extensions though - so I'll be telling you all about that in the next couple of days.
I definitely recommend you get this done if you have an event coming up. Or even if you don't.
A real feel good beauty treatment. Fabilis.
Advertised
If you're based in Dublin we totally recommend that you check out Akina - it's a firm Beaut.ie favourite.