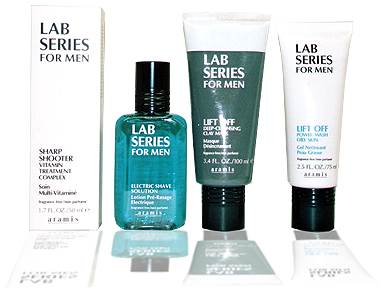 Beauty and the da, always a tricky one. If he likes it at all, chances are he likes Old Spice or that Lynx set someone got him at Christmas time. But thankfully, times they are a changin', and with recent anti aging skincare lines for men from Lancome and Dior, it seems the time is ripe for the older fellas to get in on the grooming game.If he's a discerning type already then you're all set present wise.
And where's a brilliant place to buy gorgeous high end skincare and scent? The wonderful Brown Thomas, of course. Take him into BT's for a go of their fab The state-of-the-art Lab Series Skincare Bar (Dublin only) for a bit of pampering. Brown Thomas tell me that "the bar is designed to allow men to feel comfortable in a familiar setting. Seated on bar stools, male consumers can lift a product from the tester tray which displays information relating to the product selected. Choosing from four groups, Clean, Shave, Treat, Hair/Body men can sit and try out the products in a comfortable and hi-tech environment".
Advertised
If skincare isn't his thing, then scent is often a good option. Jo Malone's offering consists of several scents, such as Amber and Lavender, Black Vetyver Café or the recently launched Blue Agava and Cacao (from €88) fragrance, all of which suit men and women. Equally acceptable would be the Italian classic, Aqua di Parma (€95), Dior Homme (from €47.50), Ralph Lauren Purple (€105) or Viktor & Rolf Antidote (€88), which is a timeless perfume full of classic ingredients with a fresh and aromatic scent.