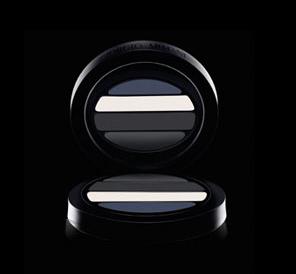 I know, we're in a recession and we need to be saving our hard-earned money and not spending and certainly not spending it on such fripperies as expensive makeup, blah, blah, blah... we've heard it all before.
Well, there's a time for being sensible, but standing in front of the Armani counter on a Saturday afternoon was not that time, particularly as the new Maestro eye shadow palettes had just come in. I went there, innocently enough, to see if they had the Lip Wax back in stock in the shade I'd been longing for, but when my eyes fell on the palettes, I knew I wouldn't be leaving without one of them too. Maestro palettes are just like the old Eye Mania palettes, but with the new Maestro eye shadow formula. There are 6 colour options, each "inspired by the rich colors of the rocks, earth, sea and natural vegetation of the Italian coast", apparently. Some of the palettes are the same colours as the old palettes - numbers 2, 3 and 4 are exactly the same (and 4 is a must have for anyone who loves a nice neutral palette of stones, taupes and charcoals), but numbers 1, 5 and 6 are new colours. You can choose between ocean, desert, floral and earth-based shades, with colours for all skintones available. Whichever option you go for, these eye shadows are silky smooth and blend beautifully on the skin.
Advertised
Priced at €58, these are not very budget-worthy, I know, but they're not limited edition, so you might want to add them to your Christmas lists if you have a bit more patience than I do. Available now from Armani counters in Brown Thomas.