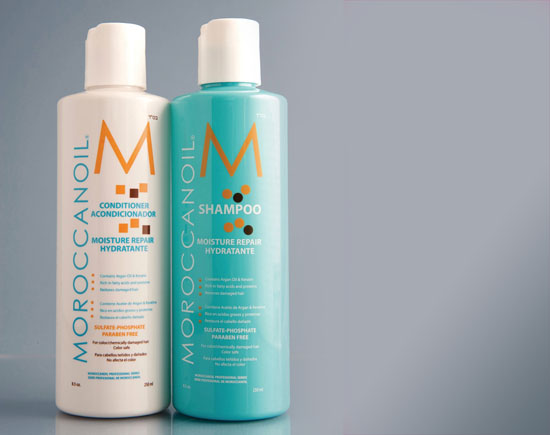 You can't move crookedy at the moment without bumping into oil-based hair treats. We've got offerings from Shu Uemura, Orofluido, Joico and also Moroccanoil, which the glossies are going doo-lally for.
Lynnie's checked out the Moroccanoil treatment and blow dry at Zeba and liked what it did for her, and I was recently sent the forthcoming shampoo and conditioner, so I've put them down the end of the bath and I've been giving them a go.
I find it hard to be wowed by (or wildly interested in) haircare, to be honest. Maybe it's my particular pain-in-the-arse hair - fine, millions of it, hard to control and style and prone to frizziness - so I tend to generally wash it, despair of it and throw it up into a pony tail in order to forget it exists. I've also told you before how whelmed I am in general by conditioner - it just doesn't seem to do much to my mane.
Advertised
Anyway, Moroccanoil.  I've used both products - yes, forced myself to use the conditioner too - twice and while this pair of argan oil-infused paraben-free products aren't going to change my life or anything like that, my cursory forays into using them have been delivering nice results.  Frizzy ends seem a lot more sleeked, but without being weighed down: I tweeted that my hair was  "all big and bouncy" - but not in an Adrian Mole fashion, naturally.
It wasn't a once-off either - a second wash and condition delivered similar results so its safe to say these will be staying put in the bathroom for the time being.  While my non chemically-straightened, non-dyed hair is taking to them well, anyone who's had the 12 Week Blowdry will also be a candidate thanks to their sulphate- and phosphate-free ways. These products are good for colour-treated hair too, and the fact that they're paraben-free will also appeal to those who're looking for more natural options.
Lastly, where to buy? Zeba and Queen Beauty Emporium are, to the best of my knowledge, the only Irish stockists - please add more in the comments if you know of 'em. They'll have the new products in from early September and the shampoo will cost around €18.80, the conditioner will be a little pricier. HQhair* also sells them online, with prices from €20.25 for the shampoo.