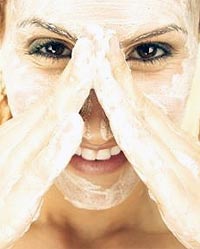 One of the best things you can do for your skin is to exfoliate it. Helping to ease congestion in spotty, blemished skin, it refines pores and can give dry skin back a bit of its lustre. But there's more to exfoliating than whacking on some gritty stuff out of a tube every now and then. Here are a few things you may not know about how to get - and keep - skin looking its absolute best:
Oils have a mild exfoliative effect and this makes them brilliant for use as a moisturiser before bedtime. Over night, skin is renewed and you'll wake up looking fresher. Plus, oils are really nourishing, comforting and brilliant for dry complexions. Try Irish brand Nadur's Radiant Face Rescue Serum. Decleor, Darphin, Trilogy and Weleda are all good choices too.
Face cloths can help to gently resurface skin too - but not lovely fluffy ones. Nope, a cheaper, thinner version is yer only man. Use as a sort of Eve Lom/Liz Earle substitute with a creme or gel cleanser, and skin will be given that little extra bit of help.
How often should we be scrubbin' with the exfoliating grains, gels or pastes? Two to three times a week, and no more.
Rice and fruit are brilliant ingredients for exfoliant products - the acids in fruit gently resurface skin without to much scrubbing, and rice is less harsh than pumice or the gritty grains you often find in cheaper brands.
Exfoliating skin does more than just clear congestion and blemishes - it can make you look younger too. How? Dead skin cells settle in lines and make them appear deeper. Clear the gunk out and it stands to reason you'll look less lined.
Advertised
Got any good tips yourselves? Share them in a comment!