 Last week when I posted about what is in my makeup bag, I had several comments regarding makeup brushes. It is a scary world to dip your toe into if you haven't already, I mean, where do you start? And how on earth do you determine a good brush from a bad one?
I have quite an extensive collection of brushes at this stage but I always find myself reaching for the same ones every day so I thought I would share with you my top five - the ones I think you should buy if you are starting out and looking to build a collection.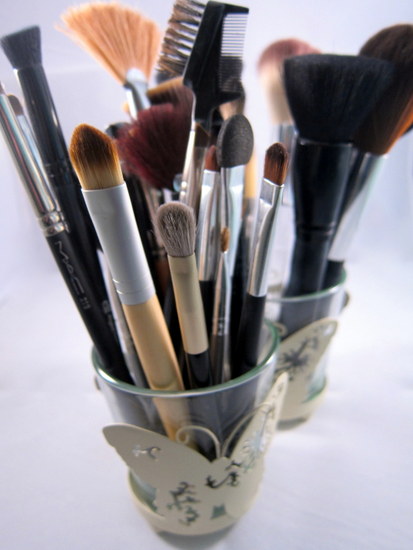 First up, not technically a brush is the Real Techniques Miracle Complexion Sponge (€5.89). This was created by Samantha Chapman of Pixiwoo fame and is her take on the infamous Beauty Blender sponge. My favourite part is that it is a fraction of the price and while I haven't tried the real Beauty Blender, I cannot think how it could improve on this. Using this is easy, simply dampen it under the tap, wring it out, dip it in your foundation and bounce it all over your face for a completely airbrushed look. The water in the sponge prevents it from absorbing too much product so there is less waste and I also use this to buff my concealer in.
Next, from the same line, is the Real Techniques Blush Brush (€12.99). It is super soft to the touch and quite large so I use this as a bit of a multi-tasker. It is big enough to quickly sweep powder over your t-zone, while still small enough to get a precision contour and blush application. This saves a lot of time in the morning as I simply dust it off on the back of my hand between steps.
Advertised
For eyes, I absolutely could not live without my Mac 217 (€24). Many claim to have found dupes for it but I honestly have never found anything that comes close. This brush is absolutely ideal for sweeping a single colour all over the lid but where it really thrives is blending. It is the perfect size to apply colour directly into the crease and honestly, if I could only ever use one eyeshadow brush for the rest of my life - this would be it. I currently own three of them!
I have recently become obsessed with the Inglot 6SS Brush. This is a super soft blending brush but is much larger in size than Mac's offering. I find it so easy to sweep a base colour all over my lids with this and it would also work in the crease for those with a larger eye area. The size and shape also make it perfect for precision powder application or along the cheekbones for highlighting.
Finally, I have to mention the Mac 266 (€21). This is a small angled brush and my absolute favourite for eyebrows. Despite owning many angled brushes from many brands, nothing works as well as this, in my opinion. It has a little bit of movement to it which makes it easier to shape the brows but it is still firm enough to impart a lot of product for a denser colour. The length of it is also just ideal.
Advertised
So those are my top five picks - although narrowing it down was harder than I thought it would be. What are your desert island top five or are you still bravely venturing into the world of brushes?