 Sometimes I choose to believe things that I know perfectly well not to be true. There are the same number of calories in a Chomp as there are in an apple? Sure give us a bag of them, it'll be like I had five apples. The label on my trousers is a size smaller than I usually take? Oh no, that's certainly not vanity sizing, it's because I only gobbled half a pack of the aforementioned Chomps. Jaysus, I have hips like Giselle.
So when I tried out eyelash extensions (and subsequently became slightly obsessed by them), I looked at my therapist with saucer Puss-in-Boots eyes and asked for reassurance that they wouldn't damage my own lashes, sure they wouldn't now sure they wouldn't?
And God bless her, there were two of us in it for she agreed that no, my own eyelashes would be safe.
So I ignored my rational mind and continued merrily along getting infills and generally fluttering and flittering those lashes at anyone in a two mile radius of my eyeballs. But when I returned last week, the therapist tutted and paused and I knew no good would come of this interaction. 'Your lashes', she said ' they look….sparse'.
She said sparse, I heard Kojak. Dear God, thought I, I've pulled eyelashes out with mine vanity (I'd been watching Wolf Hall so my syntax was as messed up as Henry's head). 'You'll need a lash serum' she continued, 'and take a break from the extensions'. 
Advertised
I hot footed it to Boots, pointing at my eyes and screaming 'SPARSE, SPARSE, EYELASH FARCE' at unsuspecting passers-by.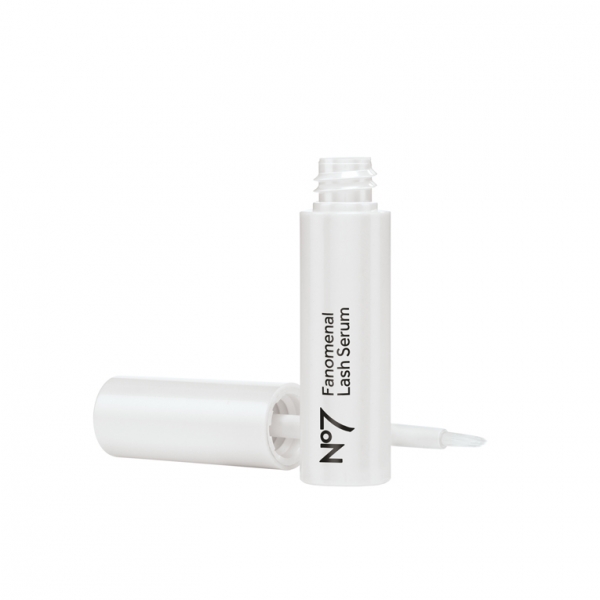 So when the lady behind the counter produced No7's Fanomenal Lash Serum, I gladly proffered my wallet and ran out the door. And at €23.50, now mine vanity is costing me in monetary terms.
The serum is to be applied every night for eight weeks. But my therapist recommended applying it twice a day and so I started it piling it on while whispering a little prayer to the patron saint of eyelashes.
And I'm aware that I'm lucky enough to have healthy, strong lashes - my love of extensions is the reason that they are damaged. I would love this product to deliver for those who are trying to grow back the brows or lashes after an illness or stress. 
I am now a week into Operation Sparse and there are no visible results so far but I am going to give it the full eight weeks before I report back. And the product can also be used on eyebrows so if you went all Pamela Anderson with your tweezers, you can encourage caterpillar growth with a slick of the brush. 
Advertised
And sure if the caterpillar gets hungry, you can give him one of my Chomps. I'm having an apple.
Have you tried No7's Fanomenal Lash Serum or anything similar? Or do you swear by anything else to encourage lash or brow growth? To the comments!