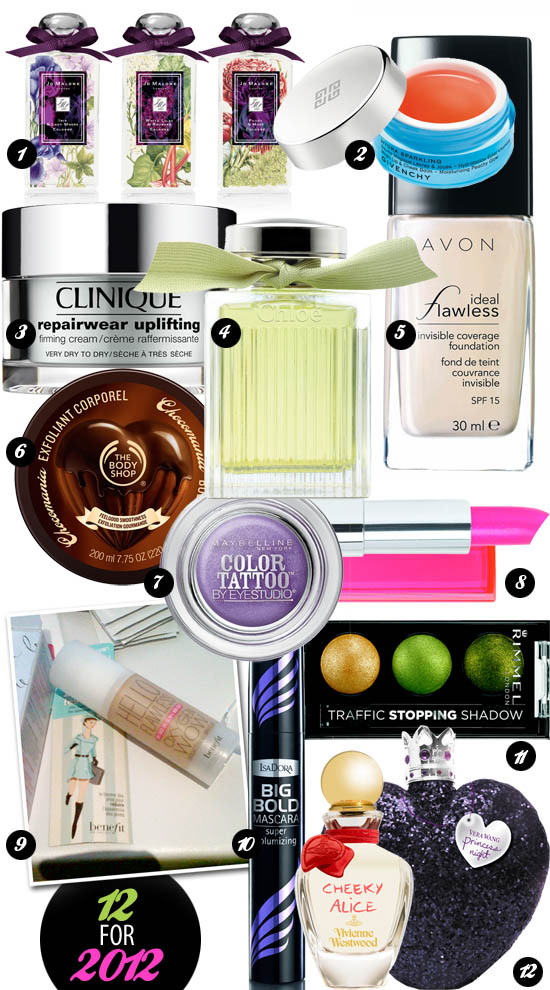 We got a glimpse of some trends that might inform our beauty buying yesterday along with a few products from brands like Lancome, Alfaparf and Ojon but that's not hardly all the excitement from beauty land for 2012. There are absolutely tons of goodies incoming. Here are a few that are standing out for me:
The Jo Malone London Blooms collection is a trio of new fragrances which will launch in March. I don't have much more info on them or any prices yet - but the on-bottle decoration is a first for the brand and marks their commitment to revitalising this brand for a younger customer
Hydrasparkling Magic Lip and Cheek Balm from Givenchy, €28.50, lands in March and is no mere Chapstick. This limited-edition liptreat contains hyaluronic acid and luffa oil to condition while special ingredients match to your skintone - so you get a custom shade each time you wear
Clinique Repairwear Uplifting Firming Cream, €68, arrives exclusively at Brown Thomas stores on March 2nd. This one's worth a look if your concerns go beyond lines and wrinkles and you're looking for a solution to re-plump, lift and firm.
If you loved the original Chloé fragrance from 2008 then look out for l'Eau de Chloé, from €45.60, launching on March 7th. A new iteration of the original, this is fresh, green and cool, and looks set to be another scent success
Lots of brands have launched one-size-fits-all bases recently and Avon will showcase Ideal Flawless, €15.50, in February. An impressive 16 shades, it's designed to be a longwearing foundation with optiluxe pigments. We'll have more on it soon
In Body Shop stores in February is the Chocomania collection. A must have for fans of sweet unguents, the Body Scrub, from €7.95, exfoliates and leaves skin scented with the scent of all things chocolatey. There's also a shower gel, body butter and lip balm in the collection
There's lots coming from Maybelline this year and it's fast becoming one of my budget brands to watch. In April look for Eye Studio Colour Tattoo 24h eye shadows, €7.49. This is a new gen gel formula that first launched in Japan and is now in the US. It's taking the beauty blogs there by storm and I can't wait to get my fingers into a few pots
Likewise, Maybelline will launch these Pop Sticks, €10.45, in April too. Like L'Oreal Paris' Studio Secrets Universal Lip Glow, it's a gel-based formula that's clear and cute
Benefit finally launch a liquid foundation in April. Again, I have no Euro price information on this yet but Hello Flawless Oxygen Wow Brightening Liquid Foundation with SPF25 will come in nine shades and promises to be what we've all really wanted from this brand - a really decent liquid base. British Beauty Blogger has lots more on this right now, and we'll be bringing you more as soon as possible
Isadora Big Bold mascara launches in mid January, firstly discounted to €8.95, from the normal price of €14.95.  I'm testing this at the mo and finding that despite the huge brush - which I generally don't get along with - a couple of coats are giving me good, dramatic impact. Get it at the special price and if you're a bog brush fan, you'll be pleased
Rimmel Traffic Stopping Shadows are launching shortly too. I saw these at the Kate Moss lipstick launch back in September and really liked the look of them. Baked, which is a new thing from Rimmel as far as I know, they come in several shade varieties and are well pigmented. No firm date or price info yet - watch this space
Spring is always all about fragrance and there are too many to summarise here. I'm picking two for 12 - cheating a bit, I know. Vivienne Westwood's Cheeky Alice, from €40, launches at the end of this month/early February and is a lighter sister fragrance to Naughty Alice.  Vera Wang Princess Night, from €42, launches on January 11th.
Anything particularly tickling your fancy?
Advertised
Benefit pic credit: Britishbeautyblogger.com