 You know all about me and my love of liquid eyeliner by now.   Having sadly said farewell to my favourite some months ago, I've been on the hunt for a suitable replacement ever since. So when I spied Geisha Ink Liquid Eyeliner, €28, while online beauty browsing recently, I had to give it a go.
Made in Japan (hence the branding, though the company distributing it seems to be based in Canada), this liner is slightly different from the pen-type liners I've reviewed before. There's no need to insert a cartridge or twist or click the pen to release the ink into the brush tip. The pen comes ready to use - simply shake before opening, remove the lid and you're ready to go.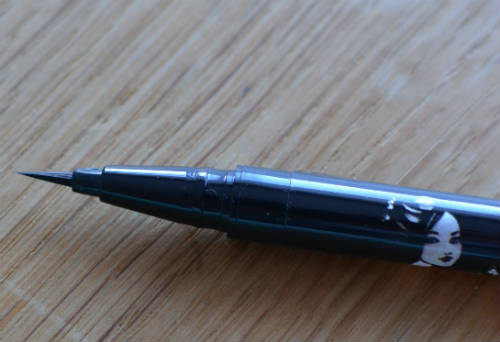 The brush tip is described as "micro-fiber" in the product info - since I didn't get a chance to examine it before it became soaked with ink, it's hard to say whether it's any different than the brushes on the other liners I've tried. However, whether it's down to the brush itself or the construction of the pen, the tip is always evenly soaked with product, so I can easily line both eyes without the brush feeling either overloaded with ink and leaving a heavy line, or too dry and leaving gaps in the line.
Advertised
I can easily get a really nice, thin line right at the base of the lashes with this and I can even wing it out to a nice thin point, which is always a tough call with liquid liners. Equally, if I want a heavier line, I can build it up without worrying about flaking or gaps in the line and get a lovely smooth finish.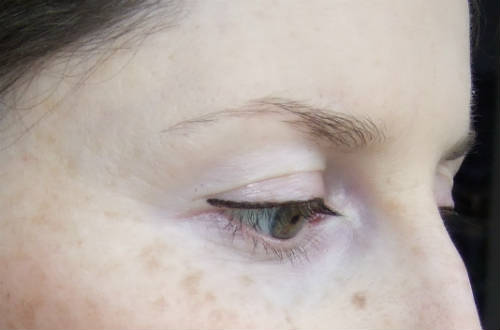 If I have a reservation about Geisha Ink liquid liner, it's that the packaging looks fairly cheap. It comes in a plastic case and the label bearing the cartoon image of a tattooed geisha is just stuck onto it. I suspect the company selling this as Geisha Ink is simply rebranding a liner that is available for much cheaper prices in Japan. However, since I don't live in Japan, I'll have to be satisfied with paying the £24/€28 to order this from Mise Beauty.
And I'm happy with the fact that while the packaging may not look impressive, this liner is leaving its similarly-priced competitors like Chanel and Shiseido in the dirt when it comes to performance.