 Last week, we featured the new Electric Palette from Urban Decay. Your comments made it clear that the palette is generally fascinating, but a little bit scary. Most people said that they thought the palette was beautiful, but that they could never wear such vibrant colours.
Colour is more wearable than you might think, and these shadows are pigmented enough to work as a vibrant liner or a full-on look like this one!
Since the proud, obnoxiously bright hues in the electric palette reminded me of a peacock feather, I thought I'd take that as my inspiration for an intense eye look that you can actually get away with. This is also a good look for those who haven't completely perfected their makeup techniques - a grungy, slightly messy look is desirable here.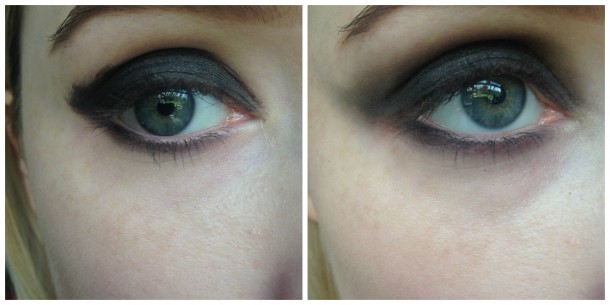 Step One
This eye look involves a lot of blending of different shadows which will result in masses of falldown that will ruin your base. So save yourself a lot of hassle by doing your base last. You might also like to leave your brows untouched until you've completed the eyeshadow - heavy brow makeup can fight with the eyeshadow and make the makeup more 'drag' than chic!
I've chosen Mac's paint pot in Blackground to prime the eye. It's perfect for this look as the electric bright shadows will be intensified when layered over a black base – it will also hold the shadow in place.
Using a dense, flat brush, pack on the cream shadow, wiggling it right down into the lashes to prevent any obvious white line above them. I've chosen to wing the shadow out a little, but it's not essential.
Take the black shadow three quarters of the way along the lower lashline too. Overall, the black shadow will look messy and way too much at this stage. Don't worry - it's supposed to!
Grab a clean, fluffy blending brush and blend out all the harsh lines.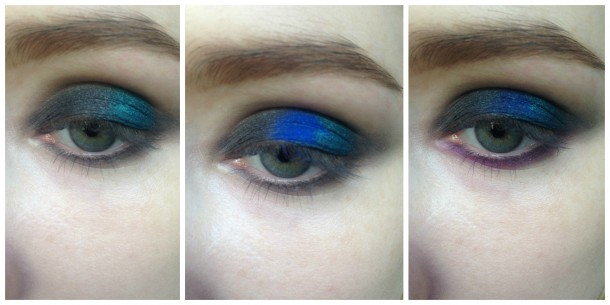 Step Two
Now for the fun part! Grab your Electric Palette (or another palette full of MAD colours) and a fluffy shadow brush. You can apply whichever colours you like, but since I'm going with a peacock feel, I'm starting with Fringe, a metallic forest green.
Dab the colour onto one part of the lid, almost like applying a big messy dot of eyeshadow. I'm applying Fringe to the outer third of my lid (as you can see in the picture), but there are no set rules. Make a mess and have a bit of fun!
Next, I'm softening the edges of the green colour by very softly blending it with the clean blending brush I used in step one.
Next, apply another colour with the same brush, or your fingertip, to the centre of the lid. I've chosen Chaos, a matte cobalt blue. You can use a variety of colours and finishes for this eye - do whatever you like! Blend the blue - again with the same fluffy brush.
Next, I'm taking Jilted - a mulberry/purple shade, and running it along the lower lashline. By now, you should see that the black base is really bringing out the vibrancy in the colours.
I've chosen purple to run under my eye as my eyes are green and this will really bring them out. Purple or blue will bring out brown eyes. Try a pinkish or orange shade to bring out blue eyes.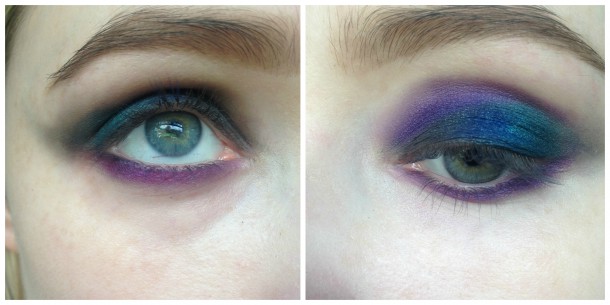 Advertised
Step Three
Grab the other purple shade in the palette (Urban) or any violet purple that you have, and blend it into the crease of the eye, as in the photo.
I've also added a  touch of Thrash - the seemingly unwearable yellow-green shade in the palette, to the outer corner of my eye and blended it. Almost everything is wearable; it's just a matter of how you wear it.
Build up any of the other colours you've already applied if you're not happy with them. And make sure to blend any hard edges.
Then highlight the inner corner of the eye with the vibrant metallic silver shade, Revolt.
At this point, I've lightly applied some Omega shadow from Mac to my brows.
The eye should still look messy, but look like it's coming together!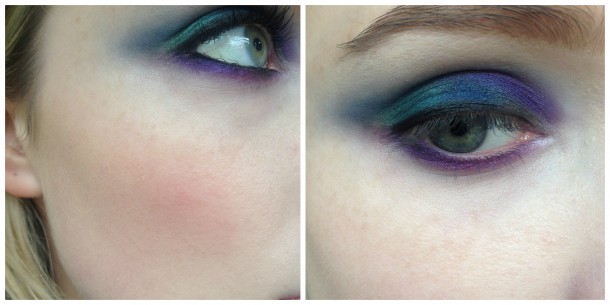 Step Four
When you're happy with how your eyeshadow looks, line your eye. I'm applying Maybelline gel liner along the upper lashline, but I'm not winging it out. Stop the line where your eyelashes stop.
If you can handle it, line the upper waterline - this is the part of your eye underneath your lashes toward the inside of the eye. If you can't bear to do this, leave it out - it won't ruin your look.
Also line your lower waterline about three quarters of the way along to intensify the overall look.
Next, you can add blush or contour. I'm skipping contour and applying the lightest touch of powder blush in Rouge to the apples of my cheeks.  Too much blush or contour would imbalance this look and make it look heavy and dated.
Apply your base - I'm using Bourjois' Healthy Mix foundation in shade 51. I've had to add a little bit of white foundation to make a shade match. Conceal any blemishes and tidy up around the eye area too.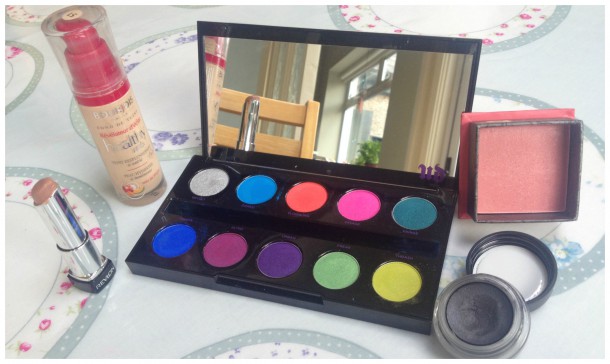 Step Five
Mascara is essential, but lashes would make the eye look too -'put together'. You want to be a hot mess (with the emphasis on hot)!
Only a nude lip can work with such a heavy eye. I'm wearing a Revlon Lip Butter in Creme Brulée.
For this look, I'd suggest either messy bed hair or a pulled-back, masculine pony to bring out the grungy look.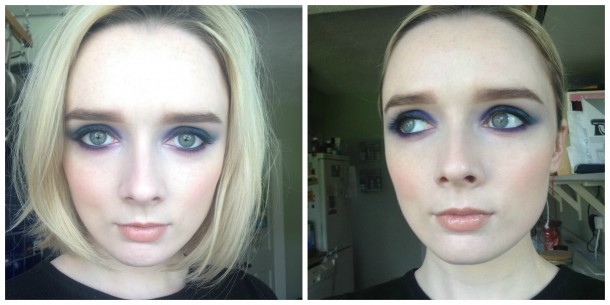 Advertised
That's it! This look has a lot of steps, but you needn't follow them all. You can do this with any shadow colours you happen to have lying around. Just dot and blend!
Are you still terrified of the Electric Palette? Would you consider a daring look like this?