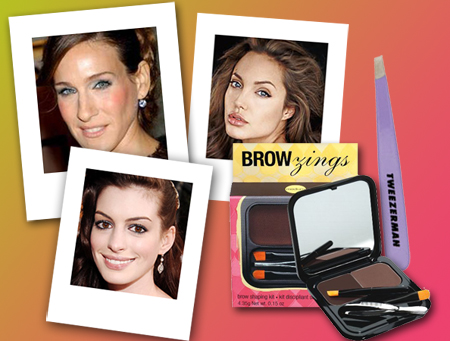 As famous for their brow services as they are for their cute, clever products, I'd actually never had my brows done at a Benefit counter before. And I still haven't, but that's no fault of Lisa Dixon, a UK-based brow specialist with the brand. Over in Brown Thomas Dublin for a couple of days, I'd reserved myself a slot with her to have my eyes seen to. I raced in 15 minutes late - curse city congestion - and introduced myself with the words, "really sorry to be so late, I was off having a facial, and the traffic was murder on the way back". Lisa's face fell - apparently it's a big no-no to tweeze and wax after a skin treatment. Ah well, you live and learn.
I settled in for a chat instead. Who has the best brows, I enquired? "Oh, Angelina Jolie", came the immediate answer. Anyone else? Yup - she reckons Anne Hathaway,  SJP and Kylie (a Benefit fan, apparently) come up trumps too, and it's all because they have a great natural arch. And sure of course that begged the question - who has the absolute worst celeb brows? Melanie Griffith and Jodie Marsh, reckons Lisa, adding that America Fererra's are pretty dire too, but as she's in character for Ugly Betty, we'll forgive her.
In the absence of getting mine shaped, I asked Lisa what'd she'd do with them if she could. Taking a good hard look and using Benefit's mapping technique (basically a stick placed at strategic points to judge where and what needs attention by using the nose and centre of the eye as guides), she said she'd tint them using a brown/black mix, a two minute treatment that would add definition for about four weeks. "And the thing about not plucking above the brows is rubbish", she revealed, adding, "plucking or waxing above is fine, it tidies the hair and gives a more groomed look".
Advertised
While I'm dubious about waxing the delicate eye area, Benefit use a tea-tree oil based wax that's gentle on skin, as well as Tweezerman tweezers - "they're the best" - to get the perfect brow.  Lastly, any thin areas can be masked with Brow Zings, the brand's ace brow shaping kit. Coming in three shades, it contains a dinky tweezers, wax, powder and two teeny brushes. "Apply it against the growth of the hair", Lisa instructed, as that way you ensure you get good coverage down into the roots.
If you fancy getting the full brow treatment at the BTs Benefit counter, then it'll set you back a very recession-friendly €14.