 Opening lots of little presents –like our suggestions for under five, ten and even twenty euro – can be a whole heap of fun. But there is also joy and magic to be found in unwrapping just one little bit of luxe on Christmas morning. Something fabulous but frivolous, perhaps, that you would never, ever have bought for yourself…though deep down you crave it even more than the last Cadbury's Caramel Nibble. (Seriously. Try them.) If you're going for quality over quantity this year, but still don't want to break the bank, you could do a lot worse than gifting one of this little lot.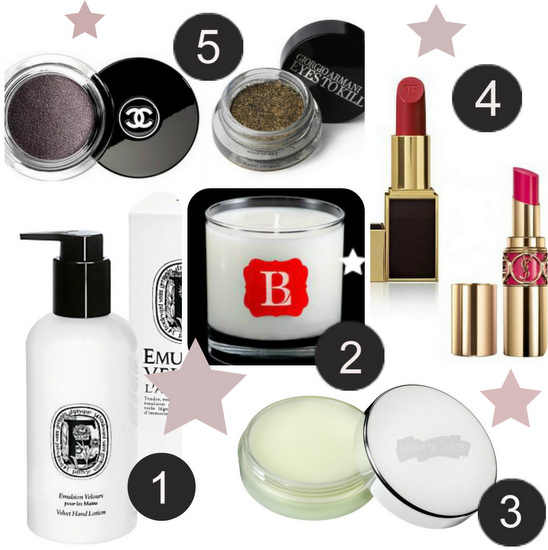 ONE Diptyque are known for their exceptional, extravagant candles but their perfume and body care is the same high quality - just surprisingly reasonably priced (by comparison!). The intensely nourishing Velvet Hand Lotion, €32, comes in a heavy glass bottle and is delicately scented with organic floral water, honey and sweet almond milk. Divine. Find it in BTs.
TWO A Diptyque candle is also a most delightful gift – unless of course you're Jemima Khan – but taking a leaf out of Rosemary's book may I suggest instead that you buy from Irish luxury candle brand La Bougie  (€29.95 for salon sized; 55 hrs burn time). I can personally vouch for the aromatic Rockrose and Oudh variety – and also for the stunning packaging: think hand carved glass jars,  scented tissue paper and ivory grosgrain ribbon.
THREE Yes, paying almost €60 for a lip balm is kind of insane. But this is Creme De La Mer: it's indulgent, it's luxury at its best – and it's all kinds of amazing, to boot. Plus, receiving it as a gift lets you love it guilt free – and love the giver, too. (ARE YOU READING THIS, MR EMMA?)
Advertised
FOUR A stunningly beautiful lipstick will always go down well. I would be beyond thrilled with anything from Tom Ford or YSL…and don't forget the gorgeous Diorific lippie that we showed you here.
FIVE If they tend to keep the focus on their eyes, then a little glass pot of loveliness could be a better bet. Fill them with wonder and joy as they open up one of Chanel's Illusion D'Ombre eyeshadows (€28), or opt instead for Armani's Eyes To Kill (€26). Both are just spectacular.
Would you like to give – or get – anything here this Christmas? And where do you stand on the quality v quantity debate? To the comments!